How to Live More Sustainably as an Energy Consumer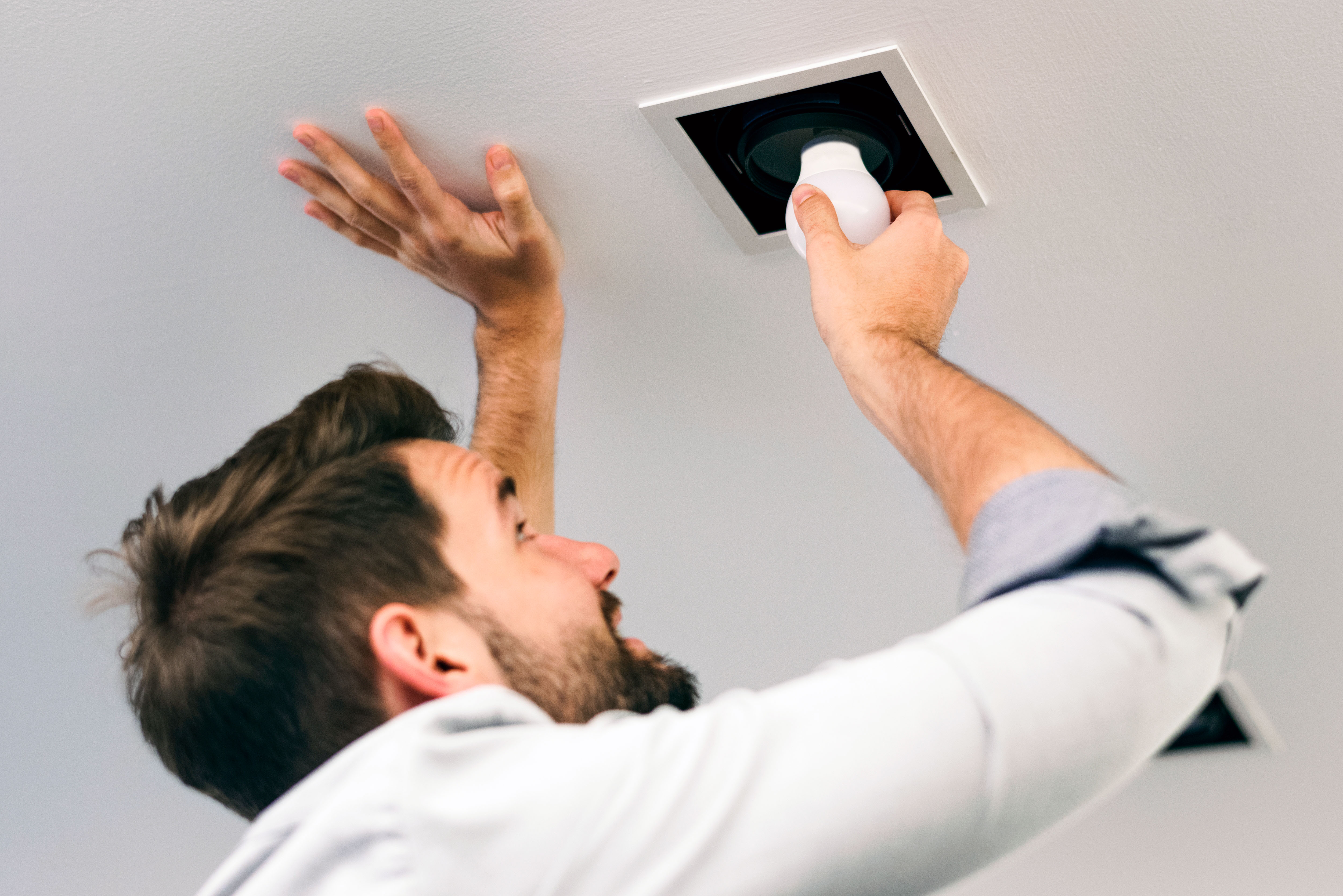 How much energy do you think you consume every day? What about every year?
The U.S. Energy Information Administration reports this: "In 2021, the average annual electricity consumption for a U.S. residential utility customer was 10,362 kilowatt hours (kWh), an average of about 886 kWh per month."
At KREMC, we want to help our members live more sustainably with cost-effective energy habits. Check out our tips to learn how!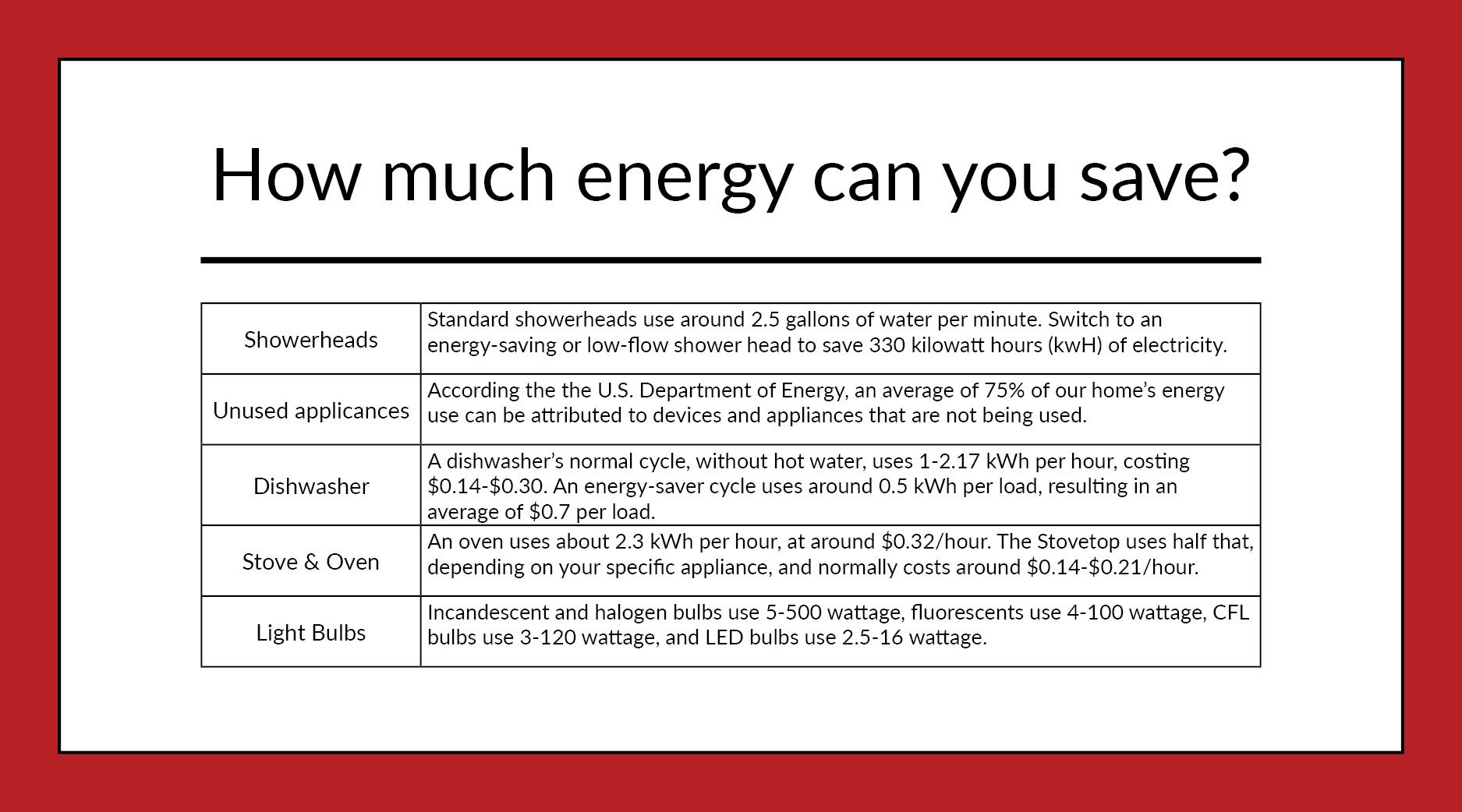 Check out this energy use calculator to learn more.
Switch Out Your Showerhead
There's nothing like a hot shower on a brisk day, but even if the shower is your only space to belt out your favorite tunes or spend an hour in philosophical thought, you're using more energy than you need to. About 20% of your home's energy use comes from heating water, and showers make up a large portion of that. As shown in the table above, standard showerheads use around 2.5 gallons of water every minute, which means an eight-minute shower takes 20 gallons of water.
Using an energy-saving showerhead could make a significant impact on your electric bill. Look for a WaterSense label on shower heads when you're shopping because a showerhead needs to use less than 2.0 gallons per minute (gpm) to have that label. Cutting your shower time in half will also help you save energy and money.
More about low-flow shower heads.
Adjust Your Thermostat Mindfully
It can feel easy to set your thermostat to whatever feels most comfortable at the moment, but even minor thermostat adjustments can use a lot of energy. According to Energy.gov, a good practice is to set your thermostat to 68 degrees in the colder months when you're at home. Whenever you're going to sleep or heading out for the day, lower it a few degrees, and feel free to drop it down to around 55 degrees when you know you'll be gone for an extended period of time.
When summer arrives in full force, 78 degrees is a good temperature for your home, and increasing it to 85 degrees will save you money when you're away. You can stay cool in the summer with a ceiling fan and warm in the winter with an extra layer, a blanket, and a pair of slippers. Another great way to save energy is to invest in a smart thermostat.
Check out this video from Energy.gov.
Further reading: How to Stay Warm in Winter and Keep Your Electric Bill Low
Keep Your Home Powered the Smart Way
In the morning, most energy consumers do things like dry their hair after a shower, pour their coffee from a fresh brew, and pluck hot, crispy toast from the toaster. No matter what electric appliances you use on a daily basis, you probably don't unplug them as soon as you're finished with them. It's another thing to think about, and too much hassle when you're going to use it the next morning. The same thing goes to unnecessarily charging your laptop overnight or leaving the TV on in the background long after your attention has strayed.
The easier way to save energy on these activities is by purchasing an advanced power strip or using smart plugs. Advanced power strips manage the power being fed to the electronics that are plugged in, and smart plugs automatically cut power feeding a device when it's not being used.
Rethink Your Dishwasher Routine
Running your dishwasher uses less water than handwashing dishes does, but you can still be careful to use it efficiently. Without hot water, a normal dishwasher cycle costs $0.14-$0.30 per load. However, an energy-saver cycle uses less than half the kWh and only costs around $0.7 per load.
According to the Energy.gov, many dishwashers have an "eco-mode" to help you reduce water and the energy your dishwasher will use in a cycle. If there is no similar setting on your dishwasher, set the temperature to cold.
When shopping for a new dishwasher, look for the ENERGY STAR symbol, marked by a little blue star, to ensure your dishwasher is energy efficient.
Strategize Your Stove & Oven Use
Even if you're not taking a fresh batch of cookies out of the oven every weekend, or cooking regular meals for a big family, you can still save energy when using your stove and oven.
Pay attention to the size of the burners on your stovetop. If you're using a smaller pot or pan, don't heat them over a big burner. Instead, you can save energy by matching the burner to your pot or pan and using a lid when possible. If you're using the oven, make sure to bake as much as you can at the same time, so it doesn't have to spend as much energy preheating.
Leave Behind Conventional Light Bulbs
Incandescent and halogen light bulbs both use significantly more energy than LEDs. Incandescent bulbs tend to consume 5-500 wattage, and fluorescent bulbs average around 4-100 wattage, while LEDs use only 2.5-16 wattage. In total, LEDs use up to 75% less energy, and also last longer than conventional light bulbs.
Your habits when it comes to lighting also impact energy use, so remember to turn off unused lights and rely on natural lighting as much as possible.
Learn more with KREMC's Guide to LEDs.
Know Your Laundry Machines
Depending on the models you're using, washers typically use 400-1,400 watts. If you use a 500-watt washing machine for 4 hours every week at $0.10 kWh, you'll be spending $31.76 on washing your clothes every year. A clothes dryer uses more energy to produce heat and spin, consuming around 1800-5000 watts. If you use a 3000-watt dryer for 5 hours every week at $0.10 kWh, you could be spending $153 every year to dry your clothes.
To save energy and money on your laundry, only wash full loads, try air drying, and make sure to regularly clean out the lint filter of your dryer.
Kosciusko REMC offers competitive rates to its members. Learn more about our rates.
Want to get personalized recommendations for your home energy use? Check out our online home energy advisor!
Further reading: Your Guide to Choosing and Using Space Heaters