Weathering a Power Outage
Power outages are never welcome and, for the most part, unexpected. We rely on electricity so much for our daily lives that when an outage occurs, it's a disruption. However, if you know what to do and the safety precautions to take, you'll be better able to weather it.
First, before calling KREMC, check to see if others in your area are without power. If those around you have power, check your home's panel box. A blown fuse or tripped circuit could be at fault. If you've determined that the outage isn't due to an issue on your end, or if it's a widespread outage, report it. Don't assume others have done so already. Once you have reported the outage, please know the line crews will work diligently to restore power. Make sure you are connected to the KREMC's social media pages to receive restoration updates.
Other tips to keep in mind during an outage:
Avoid downed power lines around your home. The lines could still be energized.

Use generators, grills, and similar items outdoors only.

Turn off appliances and electronics to prevent circuit overload when the power returns. Leave a lamp on, though, so that you know when power is restored.

Have an emergency kit on hand containing items such as bottled water, batteries and flashlights.

Keep the door to your refrigerator or freezer closed. If your door seals are tight, your food will normally be safe for several hours. The Centers for Disease Control (CDC) recommends throwing away food that has warmed to more than 40F.

No one wants or likes a power outage. However, knowing the steps to take during a outage will keep you safe and help you through it.

Use Caution While on the Water
Consider the following tips and ensure that both the kids and adults around you know their importance.
Always check the location of nearby power lines before boating or fishing. Maintain a distance of at least 10 feet between your boat and nearby lines.
If your boat comes in contact with a power line, never jump into the water. The water could be energized. Instead, stay in the boat and avoid touching anything metal until help arrives or your boat is no longer in contact with the line.
Likewise, if a swimmer is shocked or electrocuted, don't dive in yourself. You could then be electrocuted as well. Turn off the power, then use a fiberglass shepherd's hook to pull the victim out of the water.
When getting out of the water, don't touch any electrical appliances, including radios, until you are dry and standing on a dry surface.

START DIGGING IN 5 EASY STEPS.
Plan your project. Know where you plan to dig. Mark the designated area with white paint or flags.
Call 811. A representative will give you a ticket number and a list of utilities responding to your request.
Wait for the marks. Marking typically takes two working days. If you call on a Tuesday, utilities have Wednesday and Thursday to mark your dig site. Each utility marks its lines with an assigned color.
Compare. After two full working days, confirm that utility operators have visited your dig location by comparing the colors of the marks with the list of utilities 811 gave you. If a utility does not locate a conflict, it will call you or paint an "OK" in the appropriate color.
Dig with care. Once your site is marked, you can begin digging. State law mandates a 2-foot safety zone on either side of utility markings. You may only dig with hand tools in the safety zone.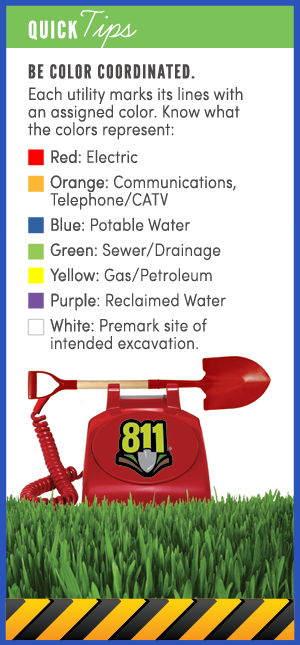 DIY Safely this Spring
Tis the season for tackling household projects that have accumulated on your to-do list. Do-It-Yourself (DIY) experts everywhere are dusting off their tool belts, power tools and lawn equipment. At the top of your list, we encourage you to include a review of household electrical safety.
Many people take the dangers of household electricity for granted. What can start out as a simple repair can turn deadly with just one mistake. The wiring around your home carries 120 volts of electricity. That is considerably less than the power lines along our roads and highways, but enough to be lethal. Never underestimate the importance of knowing what to do and how to do it safely.
Do-it-yourselfers often learn new skills from friends, neighbors and family members. If you get faulty advice on landscaping, the result is simply a misplaced plant or patchy grass. But poor electrical advice could endanger your life. Unlike some home improvement projects you can do with a few friends, electrical work demands your undivided attention. Even individuals who know the fundamentals and the dangers can make hazardous mistakes if they aren't focused on the task.
Your breaker box is the hub of all things electrical in your home. Consider taking some time this season to ensure that everything is labeled properly. Over the years, many homeowners add new appliances or make changes to their home's wiring without updating breaker labels. And when you turn off a breaker, always test the circuit by turning on lights or plugging something into an outlet to ensure you've disconnected the proper circuit.
If you feel you've mastered electrical safety, don't neglect other safety measures associated with your home improvement projects. Unlike metal ladders, wood and fiberglass ladders don't conduct electricity. It's an investment that could save your life. Take a moment to inspect the cords on your tools and your extension cords. If a tool or cord has any exposed wires, it's time to invest in a new one. Do not simply cover the area with tape or attempt to repair it on your own. And always call 811 to have underground utilities located before you begin a project that involves digging.
Among the best advice we can give homeowners is to know when a project has extended beyond your knowledge. Know when to call a professional. Sure, it might be painful to write that check, but the price is worth your safety.

Preventing Electrical Fires
Each year, electrical failures and malfunctions cause 43,900 home fires, resulting in 438 deaths, 1,430 injuries, and $1.47 billion in property damage. But many home electrical fires can be prevented simply by understanding basic electrical safety principles and following safe practices.
The Electrical Safety Foundation International (ESFI) and the National Fire Protection Association (NFPA) have teamed up to offer safety tips to help protect your home and family:
Safety should always be the top priority when working with electricity.
Keep the area around the electrical panel clear so you can easily shut off power in an emergency.
Every month, use the TEST button to check that ground fault circuit interrupters (GFCIs) at outlets and AFCIs are working properly.
Be mindful of warning signs of an electrical problem, such as outlets and switches that are warm or make crackling, sizzling, or buzzing noises.
Regularly check cords, outlets, switches, and appliances for signs of damage. Do not use damaged electrical devices.
Do not use extension cords on a permanent basis, and never use them with space heaters or air conditioners.
Avoid overloading outlets.
Do not use lightbulbs that exceed the recommended wattage of the light fixture or lamp.
Have your meter base inspected for lose connections, corrosion and wiring issues resulting from exposure to the elements. (KREMC is only responsible for the meter itself not the contents of the meter box)
Despite your best efforts at prevention, a fire could still happen. Follow these tips to make sure your family is prepared to make a safe escape:
Install smoke alarms inside each bedroom, outside each sleeping area, and on every level of the home.
Test smoke alarms every month by pushing the TEST button.
Create a family fire escape plan that includes two ways out of each room.
Practice your escape plan by having at least two fire drills a year. One fire drill should be at night while your family is sleeping.
Visit www.esfi.org for more home electrical safety information.
Source: Electrical Safety Foundation International

Spring To-Do List Safety
Tree Trimming: 
Don't trim trees that are within 10 feet of a power line - only trained and experienced line-clearance tree trimmers should handle those jobs.
Before climbing a tree, inspect the limbs to assess their strength and stability.
Wear appropriate fall protection.
Don't climb if you are carrying tools in your hands.
Outdoor Power:
Don't work outside with electrical devices when it's damp. Keep devices and cords away from water.
Use extension cords that are designated for outdoor use.
Check for frayed cords, broken plugs, and cracked or broken housing. Don't use devices that are damaged.
Keep waterproof covers on outdoor outlets not in use.