A Park with No Limits: Winona Lake Parks Department Shares its Vision for Limitless Park Project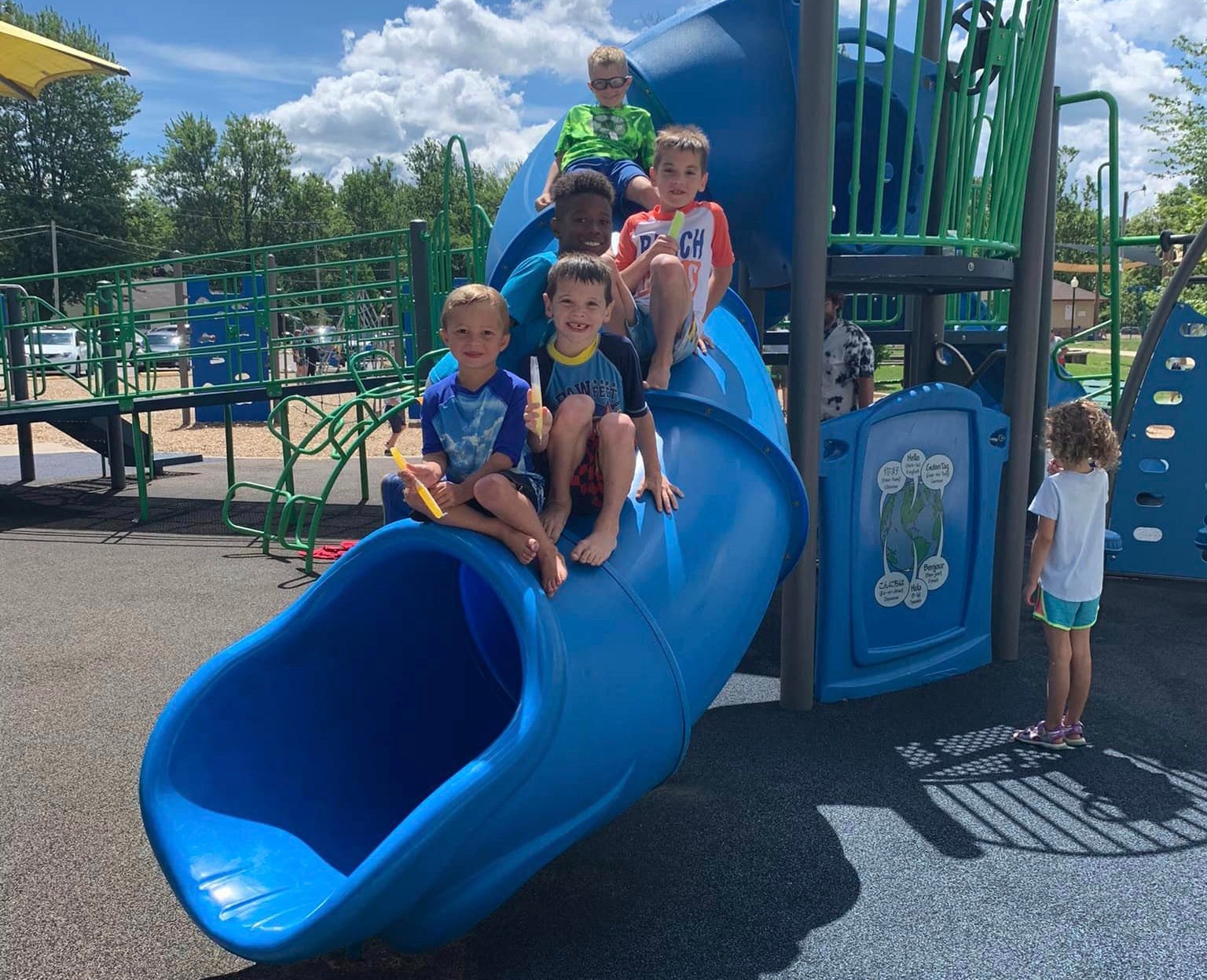 As a not-for-profit electric cooperative, Kosciusko REMC is proud of the work that our Operation Round Up grant has accomplished in the community. Today, we have yet another story of how a grantee is using the funds to give right back to the neighborhoods in our area.
Kosciusko County is beloved for its picturesque lakes and giving communities. Talking with the thought leaders of the Winona Lakes Parks Department, it's easy to understand why.
Holly Hummitch, director of Winona Lake Limitless Park, and Kristie Maiers, board president, are working together on reimagining the limitless park to make it more accessible and fun for the community. They both expressed excitement, revealing each phase of the park's additions, and always pointed back to the community as the heart of the Winona Lake Parks. We hope you enjoy the conversation as much as we did!
KREMC Interviewer: Walk me through the development of this vision and construction for the park. How has it been going?
Holly Hummitch: The vision was created back in 2011, so it's been a long work in progress. After several years of planning and fundraising, we finally broke ground on the splashpad in 2014. A quarter of the current playground came to be in 2016. There were several key components to the revitalization of the Winona Lake Park. The complete renovation includes the remaining portion of the playground, which is about three-quarters of it, a new restroom facility, and additional parking.
The Operation Round Up grant specifically covers Phase 5 of the playground renovation. It sits at the forefront of the park. There will be a raised platform, a slide, climbing stones, a crawl tunnel, and it will be separated from the actual surfacing by landscape holders. It's exciting! This is my favorite phase.
Kristi Maiers: This is a 1.2-million-dollar project. Some is coming from the Indiana DNR, the National Parks Services, through the Land and Water Conservation Fund. We have some coming from the K21 Health Foundation, and the Operation Round Up grant goes into components of Phase 5. We'll be starting the final completion this summer. I know that REMC is very sustainable, so we'll probably put the Operation Round Up grant toward the natural boulders we want to include.
KREMC Interviewer: How have you seen a need for this limitless park upgrade in the community?
HH: Our current park doesn't fully meet ADA standards. The entire playground isn't fully accessible for anybody with mobility impairments, so it's always been our desire to have a fully limitless park. In Kosciusko County, around 13.7% of the county has a disability. We want to create a community gathering space that everyone of all ages and abilities can enjoy. I like to sit and observe. I look out and see someone in a wheelchair, an older adult on the equipment with a child or a youth interacting with their peers. I spoke to one mom who appreciates all that we've done to make the changes we have so far and strive to in the future.
KREMC Interviewer: What has the community's response to the project been?
KM: Overwhelmingly positive. Besides the large grants, there have been a lot of private donors. We began both the private and the grant campaigns over a year ago, and the money from private donors still comes in on a monthly basis. People are anxious to have it completed. This park is used so much. It's a destination place.
HH: We've had great community support! It's not just the Winona Lake and Warsaw communities – it's all the surrounding communities that attend and contribute.
KREMC Interviewer: How does the parks department partner with local organizations to create opportunities for the community?
KM: We put in an all-access kayak launch in partnership with KIWANIS club and the convention bureau. People come here to shop, and they come here for the park. The service clubs invest in the parks in the community, and they have taken a large interest in making sure we all have ADA limitless access. They're also part of our new water program for the summer, and we're partnering with the Warsaw morning optimist group as well.
HH: All the hard plastic benches in our park are all made from plastic bottle caps. We do a partnership with ABC Promise Partnership and Green Tree Plastics to collect bottle caps.
KM: We accept donated Gatorade and water bottles, prescription bottles, buttering lids, sour cream lids, things like that. We turn recyclable stuff into benches for a discount. Holly began this 4-6 years ago, and now we've picked the program back up again.
KREMC Interviewer: How does the parks department resonate with Kosciusko REMC's community-centered values?
HH: Your core purpose is to serve the community wherever the need is greatest, and that's exactly what we're trying to do by making our limitless park accessible to all ages and abilities. Your mission statement talks about valuing integrity, accountability, innovation, and commitment, and we're aligned with that same mission. KREMC Interviewer: What are the next steps for this exciting parks project?
Holly: This project has three more phases. This past year, we added the sidewalk extension along the beach to the splashpad parking lot. It has a connective path up to the playground and serves as a landscape barrier between the playground and the water. This phase will provide a barrier between the playground and the parking lot.
We're adding new, exciting components: climbing apparatuses, new swings, and more. The curly slide will not go anywhere because it's near and dear to me. That is one thing that's a staple at the park and will remain. The firepit ring, Victory Circle, has been around since the early '30s, so it's another historic piece of the park that will remain. But we're adding connecting paths and walkways throughout there.
Not only do we want to be a recreation destination and have limitless play on the playground, but we want to offer barrier-free water access as well. The installation of the dock launch was one portion of that, but this spring, we're putting in a Mobi-Mat, which is a pad that allows direct wheelchair access into the water. In addition to that, we have two WaterWheels wheelchairs, which are floating wheelchairs. Anyone in a wheelchair will have full access to the water!
KM: We have a partnership with Grossnickle Eye Center and the Grossnickle Foundation to build another pavilion out by the splashpad, which will be like a pavilion picnic shelter and add shade. There's a lot going on in this little park! It's super exciting to see everything start to come to fruition as the vision comes true.
We will begin the early part of the summer, with completion anywhere from 6-8 weeks out. Hopefully, it will be complete by the first of November. We'll do a big groundbreaking and ribbon-cutting! We're excited. It's an undertaking to do a project like this in the middle of summer with all the activities and summer programs that Holly has.
KREMC Interviewer: Looking back, what stands out to you about this whole process of upgrading the parks for the community?
HH: I've been here for 15 years. I get emotional because this is the playground I grew up playing on. It is exciting to see the dream for WLLP come to fruition. I am thankful for the original committee of volunteers who helped spearhead this transformation and have done what I could over the years to continue the progress. When Kristie came on board, she helped me with the grant writing process. We're a good team.
KM: 50 cents, a dollar, five dollars – it all adds up. Kind of like the REMC round up! It's amazing what that little bit from so many people comes to.
According to Hummitch and Maiers, the fundraising for the parks department never stops. So far, the grant has raised over $936,000 in 13 months, and they appreciate every cent contributed to the project. If you're interested in helping the Winona Lake Limitless Park become more accessible to all, donate on the website or check out their social media.