Operation Round Up Aids the Winona Lake Fire Department's Emergency Ice Rescue Services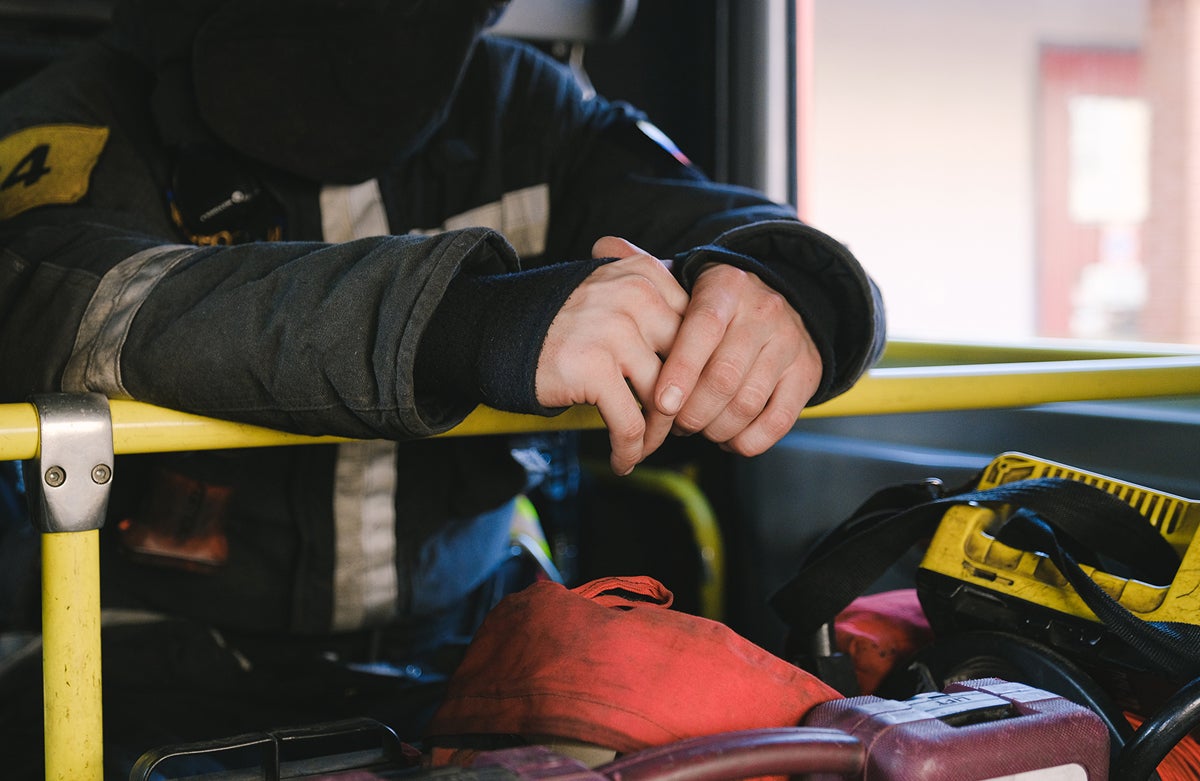 Mike Cox has been with the Winona Lake Fire Department since 1966, and worked as a police officer at the Warsaw Police Department  between 1985 and 2014. Now, Cox is the public information officer for the Winona Lake Fire Department and plays an important role in helping equip the department as the community's largest emergency response agency.
Operation Round Up supplied the fire department with a grant for ice rescue equipment, which is used to ensure firefighters are fully prepared to rescue victims who have fallen through the ice. In this blog, Cox explains how ice rescues work, and misconceptions about ice safety that the community should know.
KREMC Interviewer: Tell me about the need for ice rescue equipment, and how the fire department is prepared to use it.
Mike Cox: Winona Lake is blessed to have, not only one of the larger lakes in the county within our response area, but also a number of streams, ditches, ponds, and smaller lakes. While these sources of water recreation are a great asset, there are times when being on them is unsafe. Fishing, ice skating, hockey, and other sports lure people onto the ice, sometimes when its not thick enough to properly support them. Falling through the ice can be a life-threatening event, with hypothermia setting in quickly. Rapid intervention is necessary.
Several years ago, there were several incidents of people going through the ice as they were fishing, snowmobiling, and things like that. Through the years, we have used our ice rescue equipment several times, fortunately mostly for training purposes.
The ice rescue suits have developed leaks, which means they don't protect our firefighters properly. Suits that have deteriorated are still useable, but you can't stay in the water as long because you're going to get wet. With the new suits, you can go in with street clothes underneath and come out dry. Some of our rope was getting old and frayed as well, so we needed new rope.
We have tried, unsuccessfully, to find money in our budget to purchase new suits and gear for years. It was only through the generosity of the Operation Round Up grant that we were able to obtain very much needed ice rescue suits and accompanying rope, ice picks, and other gear. Replacing this vital gear before the winter season gave us the opportunity to train with it and be prepared for the ice season. Due to other needs within our budget, we would not have been able to purchase this gear without the grant.
It's going to be a benefit to lots of people because we'll respond alongside any county's department. If another county needs us for a rescue because they don't have anyone available, we'll go.
KREMC Interviewer: What does that partnership with surrounding fire departments look like? How does it benefit local emergency response services?
MC: It's been called the best fire county association in the state, with 15 departments in the association and an average of 25 firefighters per department. We meet once a month to share ideas. If two different fire departments need something, we'll combine the order for a discount. The association is in its infancy and we're looking for someone to be the go-to person for that. We have a fish fry every year and invite all the state and local officials.
When you're fighting a major fire, one department can't handle it on their own. Even Warsaw's department will call for help if there's a major fire downtown.
Because of this, if you're going into a building, it may not be your own department that's backing you up. You want to know those people by sight, even if you don't remember their names. You want to know they have training and they're not going to run out when they feel the heat.
That's what the county meetings do – you get to share a meal with them, and share thoughts and procedures and techniques. It's been an association since the '40s, so it keeps on going.
KREMC Interviewer: What are the typical dangers that people encounter on the ice?
MC: Bigger lakes invite more people in and around the lake. But people also try to walk across streams. Three years ago, some boys were out on a pond near Wooster Road. Two of them went through and there happened to be a state trooper and some other people nearby. They called us but by the time we got there, they had gotten them out. It's just a swamp, but the kids decided it would be fun to cross it and it didn't work. They didn't realize that the ice was too thin.
I can remember taking a car out on Winona Lake on the drive-through course. I was coming off of it and we heard a crack while I was out on the course. As soon as I heard it, I headed off the ice and my back tires broke through, but I had enough momentum to get out.
I see people walk across the ice from the island of Winona to the fairgrounds. It's a long way to walk, but it's safe as long as there's plenty of ice.
KREMC Interviewer: How can you stay safe on the ice during winter activities?
MC: If you don't know how thick the ice is, don't go on it. If you can't bore it and find out how thick it is, don't go on it because it's never as thick as you think it is.
A small person is less likely to break through the ice, but if you're active and playing hockey or something, the activity or combined weight of two players might make you go through. With the sheer weight going through the ice, you tend to submerge completely. You may be fortunate to grab onto the edge, but ice is slick and it's hard to get a grip.
Ice fishermen tell me they can be out there on two inches of ice. I think that's pushing it. There are places around lakes and ponds that may have a stream coming into it. Those areas never freeze as solidly as the rest. Winona Lake has a lot of springs coming up under the lake, so those areas have constant water movement that erodes the ice. You never know.
If you go through the ice, the hardest thing to do is remain calm, but you have to. If you start thrashing around, you're going to break the ice or slip under it, and then you can't even find the hole that you broke. My number one rule has always been, if you don't know how thick the ice is, don't go on it.
KREMC Interviewer: Would you say that most media portrayals of people going under ice are realistic?
MC: I've seen it both ways. I've seen portrayals where they went in, then they came right back up in the hole and held on until somebody could get to them. I've seen other portrayals where they went through and within moments, they started to lose your sense of direction, which is a real danger. People have actually swum down instead of up because they didn't know what was going on. Once you've lost your sense of direction, it's going to be hard for you to get back there. Those are the portrayals that are the most accurate.
KREMC Interviewer: How does ice rescue work?
MC: Within two or three minutes of going through the ice, the victim starts to lose bodily function. If the victim isn't visible, the person suited is going into the water. Because they're tethered, they'll stay close to the hole but try to feel around underneath. It's up to the rescuer, but some say they would probably dive and try to find them. Unless you can get to them quickly, hypothermia sets in and you can't help them. It does slow down their heart rate so their bodily functions can be protected. However, the body takes blood away from the extremities to feed the heart and brain, which quickens frostbite.
When we first got the suits and were training, we all went under the ice in them, and learned how to pull people up with the rope attached to them. With this equipment, we're more prepared for ice rescues. We felt the need to have it available, and we pray we never have to use it.
KREMC Interviewer: If you're with someone who falls through the ice, how should you respond?
MC: Your chances of pulling them out are very small, so you need to get other people there. If the victim's head is above the water, tell them to stay calm and then go for help. You've got to get rescuers on site. If there is a log or anything you can give the victim to hang onto on top of the ice, get that to them. I carry a rope in my car, so I can throw that out to someone. Talk to the victim and tell them to be calm and not to thrash around.
They're going to lose muscle function quickly. As the friend of the victim, the best thing you can do is give them something to hang on to, talk to them, and keep them calm. Make sure that help gets there. If you go on the ice, don't take your cell phone. A wet cell phone is useless. Leave your phone in the car or on the shore so you have a means to call for help.
KREMC Interviewer: How is the Winona Lake Fire Department likeminded to Kosciusko REMC in serving the local communities?
MC: I've been a member of KREMC for over 40 years and I've always appreciated the co-op's service. I signed up to contribute to Operation Round Up right away because I could see it was going to be a good thing. I look at the grant report every year and I'm always amazed at how much accumulates from just pennies.
I have kept informed of the great number of projects and community issues that have received much-needed support from KREMC. While working through this grant process, I was able to find out much more about the impact that KREMC has in this county. As an all-volunteer fire department, we have always given freely of our time and effort for our community, and it's easy to see that KREMC is like-minded in its commitment to Kosciusko County.
The rescue and fire equipment is just equipment until it does its job and saves a life and/or a property. Then, it becomes a necessity. We cannot wait until that emergency happens to try to obtain the proper equipment. Knowing that we have state-of-the-art ice rescue equipment available as we enter this winter season helps to give us the confidence that we will be able to properly answer that call.
We are very grateful for this grant. When we trained with our new equipment, people were anxious to get in the suits and looking forward to getting on the ice. As a group, they all said to thank the REMC!
We hope you've enjoyed our Operation Round Up blog series! If you'd like to learn more about the grant, visit our webpage or check out another blog.