KREMC Lineman Reads Picture Book to Presby Preschoolers
The REMC picture book was created by an employee for community youth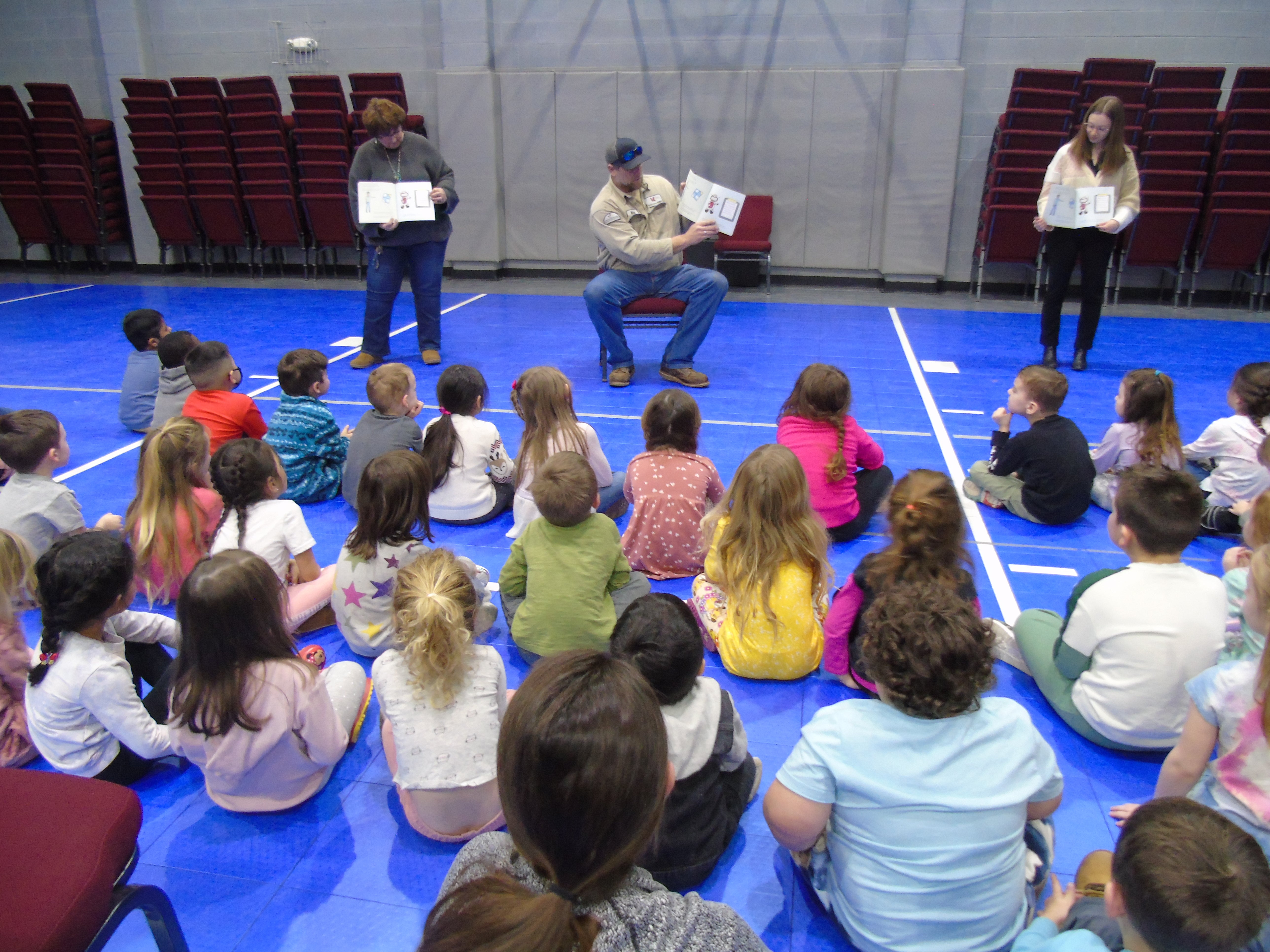 Warsaw, Ind. (Jan. 25, 2023) – Kosciusko REMC (KREMC) Lineman Mike Whitaker drove up to Presby Preschool in his bucket truck last Monday, and read a picture book called, "Mike the Lineman and the Big Storm" to a group of preschoolers. Also present was Kyrsten Newlon, marketing and communications specialist at KREMC, and the author and illustrator of the book.
The story follows Mike the Lineman, an illustrated version of Whitaker, and two young children whose power goes out in a storm. The character Mike, along with his "electro-bot," Geo, work to restore the home's power as the children learn how to have fun and stay safe during outages.
"Being involved in the community is one of the cooperative principles that allow KREMC to be successful," explained Whitaker, "I consider myself lucky to be able to engage with the youth of my community."
After Whitaker read the book to students at Presby Preschool, flipping through the pages as he went, the preschoolers responded with their own stories of home outages. Later, the students expressed their desire to be ready for power outages, like Mike the Lineman said.
"This was a wonderful way to help us talk to the children about being prepared for emergencies such as bad storms and power outages," one teacher said.
Newlon wrote and illustrated the picture book with the intent of reaching out to Kosciusko County's youth.
"This book is for everyone, but it's especially for the students of our community," said Newlon, "Everyone can relate to the feeling of being stuck in the dark, and we want kids to know that they're not alone. Their electric cooperative is there for them – to restore the outage, but also to initiate ripples of kindness in their neighborhoods."
The picture book is available at the Kosciusko REMC facility at 370 South 250 East Warsaw and is free for all KREMC members. It's also available for purchase on Amazon.
Kosciusko REMC is a Touchstone Energy® electric cooperative serving over 18,000 accounts throughout Kosciusko County and into surrounding counties.
###
If you would like more information about Kosciusko REMC, please visit kremc.com. 
Photo: Mike Whitaker (center) reads picture book by Kyrsten Newlon (standing right) to Presby preschoolers, with the help of Newlon and Presby teacher, Lisa Justice (standing left), turning pages. Photo provided by Presby Preschool staff.