Meet One of our John H. Anglin
Scholarship Recipients
Every year Kosciusko REMC gives away ten $1,000 John H. Anglin scholarships to members who are pursuing higher education.
This article is part of a series highlighting some of the John H. Anglin Scholarship recipients.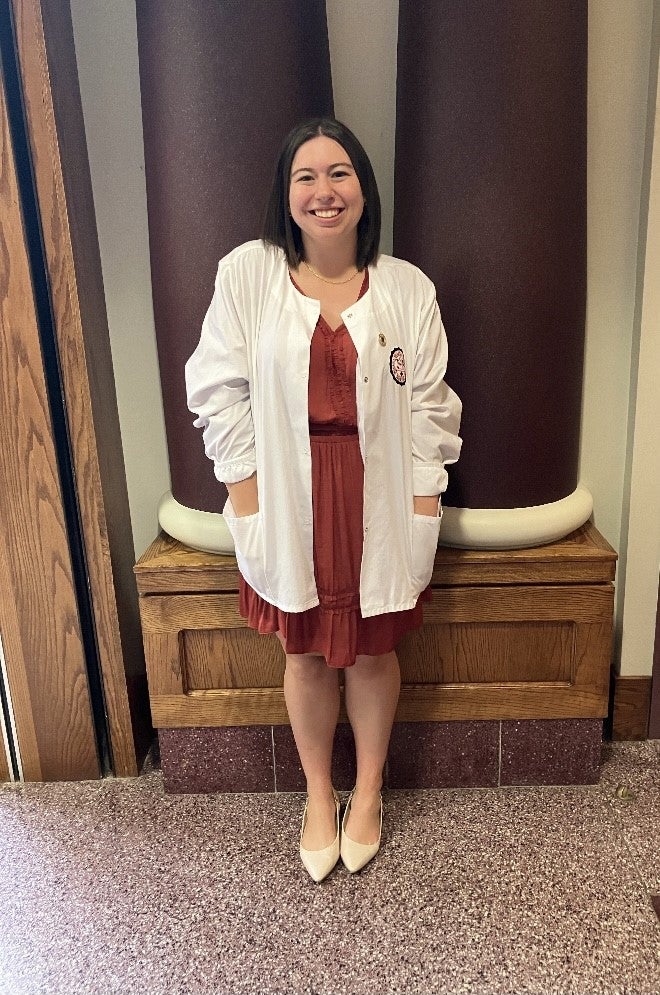 Miriam Hagg
Miriam Hagg has lived in Warsaw her entire life. In high school, she was involved in various community service activities. "I worked with the community foundation on a lot of philanthropic projects, which was really cool," Hagg began. She said it helped her develop a love for service as well as a love for her community. "Right now, I'm a senior at Indiana Wesleyan and studying nursing. I'm really enjoying it," she said.
Hagg shared that she always knew she wanted to pursue something in healthcare but didn't know quite what. In the spring and summer of 2020, she had the opportunity to work at a local long term care facility as a nursing assistant. "I really loved building those connections with individual residents. Serving in that way really resonated with me," Hagg explained. "And so, from then on I knew I wanted to pursue nursing as a full-time career."
Nursing students are notoriously busy with their classes, but Hagg has also been very involved in resident life activities throughout her time at Indiana Wesleyan. She was a resident assistant for one year and then spent two years as a residential director. According to Hagg, the roles gave her a behind the scenes perspective into how people connect in freshman halls. Hagg said she enjoyed bringing people together around a shared focus, supporting communities and allowing them to thrive. This fall, Hagg will be a coordinator for freshman activities.
Over the last year, Hagg had the opportunity to combine her passion for helping first-year students with her educational pursuits. She was involved in a research project focused on mental health in high ability students and how that changes once they enter college. Hagg shared that she found the research interesting because as she worked with undergraduate resident students, she started noticing trends.
"I wasn't sure if those trends were indicative of all college populations or just those that I was working with," Hagg explained. "And so, it was interesting to get to understand how mental health looks in those populations and also to work that into my own service at school and provide more support for gifted students, even if just through conversations I was having."
Hagg said that students are often so focused on productivity they forget to remember the humanity behind it all. "I heard so many stories of people who were thriving academically but who were struggling on an internal level and how that performance can affect them," Hagg revealed. "It was really beautiful to recognize how students who felt really plugged in and engaged in their communities were less likely to report those characteristics in mental health."
Hagg said observing the positive impact of a thriving community on a student's mental health really resonated with her. "Because we talk about it a lot. It was interesting to see how much that work matters and how much the way we approach other people matters," explained Hagg.
As Hagg continues in her academic journey to becoming a registered nurse, she will continue to work at the long-term care facility, where she says the residents inspire her passion for the field. She hopes to continue her excellent academic record during her fourth year. She has been on the dean's list several times and said she takes pride in maintaining that standing.
"I want to ensure that I'm taking full advantage of the educational opportunities I'm blessed with and I'm not just allowing school to be something I have to do but something I really desire to pursue every single day," Hagg said.
Hagg was quick to express her gratitude for the John H. Anglin scholarship she was recently awarded.
"First of all, I think it's just such a financial blessing. College can be a challenge to pay for and so it's beautiful to see a community, especially the KREMC community, coming alongside students and rallying for education," she said. "I think that's so important. And it's just a really good reminder of all this community continues to support in my life and a reminder to be really intentional in giving back to that community."