The Collective Impact of a Powerful Community
Kate's Kart Shares How Books Encourage Hospitalized Children
Photos provided by Kate's Kart
Kosciusko REMC's Operation Round Up grant is helping communities in Northeast Indiana provide resources and comfort to those in need. One of the grantees of 2021-2022 was Kate's Kart, a nonprofit based in Fort Wayne, Indiana, that distributes free books to hospitalized children. In this Q&A, learn from Director and Co-Founder Krista Layman how Operation Round Up helped Kate's Kart in their mission.
KREMC Interviewer: How did Kate's Kart begin and grow into what it is now?
Krista Layman: Kate's Kart started in 2008. My husband, Andy, and I had a daughter, Kate, who was born with a heart defect and some genetic issues. She spent over 180 days in the hospital receiving open-heart surgeries and procedures. Unfortunately, she passed when she was one and a half, but the books we read to her brought so much healing to us. After surgery, when we couldn't hold her, we would read to her to bond with her. Sometimes, she was really sick and wasn't strong enough to do anything but be read to.
We were really encouraged and inspired after she passed to do something in her memory. When we thought back to our experience in the hospital, books were such an important part of that. When you have a newborn in the NICU, and you can't be a regular mom to that baby, reading to him or her is the only normal thing you can do.
We reached out to our local hospital and told them we wanted to give books to kids to make their stay a little more comforting and bring a little diversion. That's what our mission is – a comforting diversion. Whether it's in the ER, waiting to see a doctor or get a test, or they've been in the hospital for a month, if we come in and give them a new book, it makes them feel special in that moment.
We grew quickly, and within those first couple of years, we expanded. One of the places we expanded to was Lutheran Kosciusko Hospital, which was due to a boy who lived in Warsaw who was battling cancer. He received books while he was in Fort Wayne getting treatment, and when he went back to his local hospital, he wouldn't get a book. He rallied his school and classmates to get a Kart started there. Then, we added another Kart at Parkview Warsaw when it opened.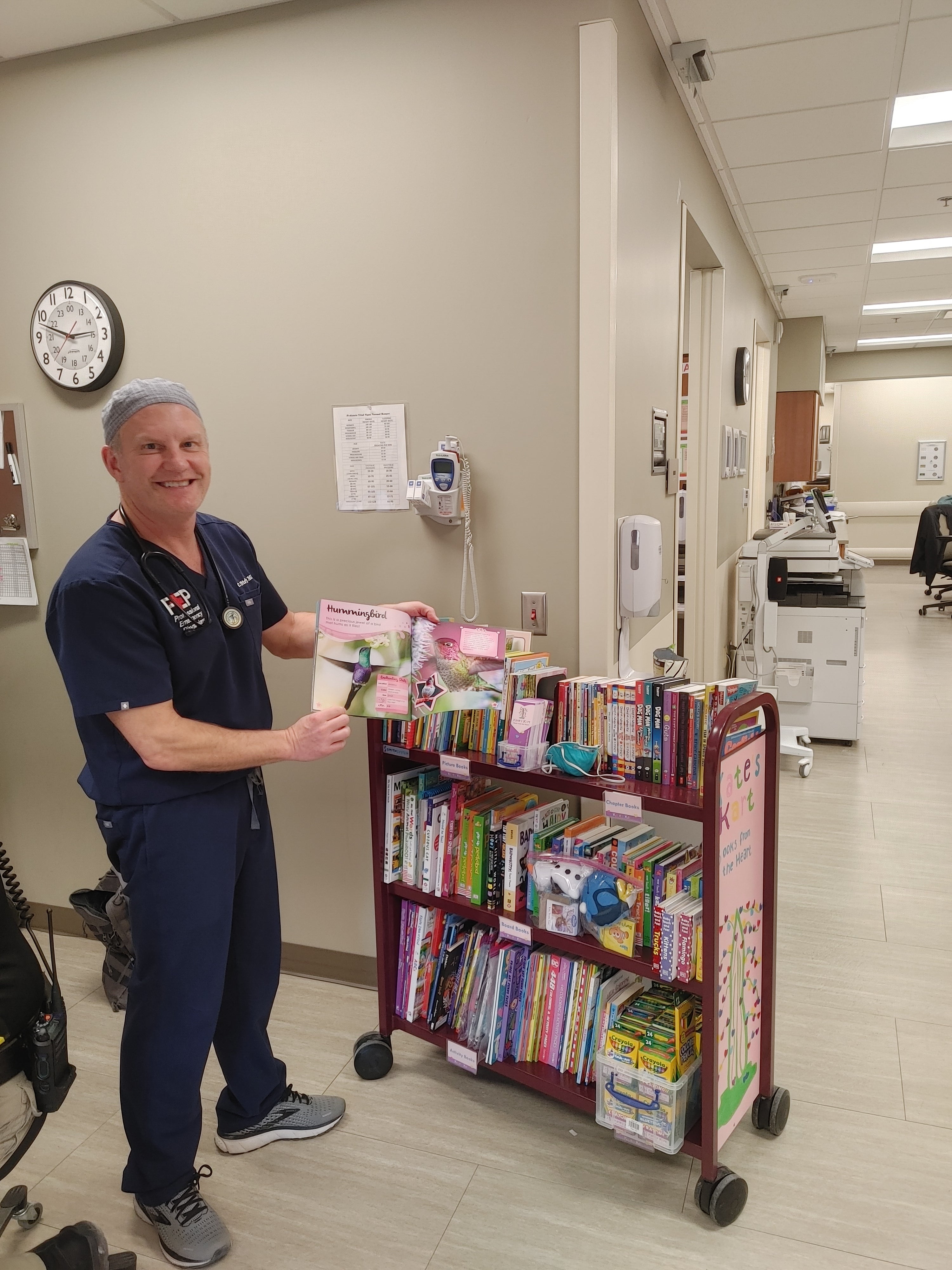 KREMC Interviewer: How did you discover and apply for the Operation Round Up grant?
KL: When we had seen a significant increase in book distribution in Kosciusko County, we reached out to the community foundation and asked about partnering for support. They loved the idea and directed us to the KREMC Operation Round Up grant as a great place to seek support.
We've been receiving funding from this grant for at least six years now. Because we service 15 counties, it's awesome to have each individual county rally behind us and support the mission of what we're doing in their local county.
Personally, we're KREMC members, and it's cool to see the collective, significant impact our community can have. It's great that KREMC sees that and provides that opportunity. I appreciate the fact that the Operation Round Up committee looks at everyone's needs and tries to help as many people as they can. We're honored to be chosen for this grant.
KREMC Interviewer: How has Kate's Kart influenced its widespread community over the years?
KL: Books can be a real healing tool and a sense of normalcy in an environment that's not normal. Because of COVID, people are in masks, so nurses can't even share a smile with a patient. Everyone looks scary behind their mask, and kids can't see their doctors or have all the visitors they want. Providing a book brings a little bit of home and comfort to that child.
The kids get excited. They're in a scary place, and they're hurting, but they see this Kart, and they get super excited about the dinosaur book or the Lego book, and we want that excitement.
KREMC Interviewer: How did the Operation Round Up grant help fill these needs?
KL: We give about 3,000-4,000 books every single month. Giving out 40,000 books a year can't be done single-handedly. It has to be a community of people who believe in the mission. Obviously, these books cost money, and since our headquarters are in Fort Wayne, we have to travel to the outlying communities to deliver those books.
The grant says, "We believe in your mission, and here's support to help purchase, store, and deliver the books to the Kosciusko County Karts." We're so thankful for the KREMC Operation Round Up grant because it provides extra support and allows us to buy quality books.
We want this to be a significant gift to the child – it's a book they get to take home and add to their library. If a book has just been released, we're buying that book and getting it on a Kart. It costs a little extra money to get quality books, but we want it to be a book that lasts a while and provides that engaging interaction.
KREMC Interviewer: What kind of books are most needed and enjoyed right now?
KL: The majority of the books in Kosciusko County are board books for one- to three-year-olds. They're interactive books that the babies can't tear. Right now, we have an RSV flu crisis with babies, so hospitals are overrun with little ones. We'll go to a Kart, and that entire shelf of 50 board books is gone. We're refilling them twice as fast.
The other type of book that is in high demand is activity books like coloring books, sticker books, seek and search books, airplane folding books, and word searches – books where they can do something while they're confined to their bed.
KREMC Interviewer: How does the community interact with Kate's Kart?
KL: I posted a photo on Facebook of an empty Kart at the Parkview Warsaw Hospital and said, "Yikes! This is how we're finding the Karts in the ER. Hospitals are really busy right now. If you'd like to help, here's our Amazon wish list." That was on Friday, and on Monday, an entire Amazon truck pulled up and said that the entire truck was full of packages for us. The community saw a need and said, "I can donate a book!" And being able to ship a book directly to us through Amazon makes the donation process easier.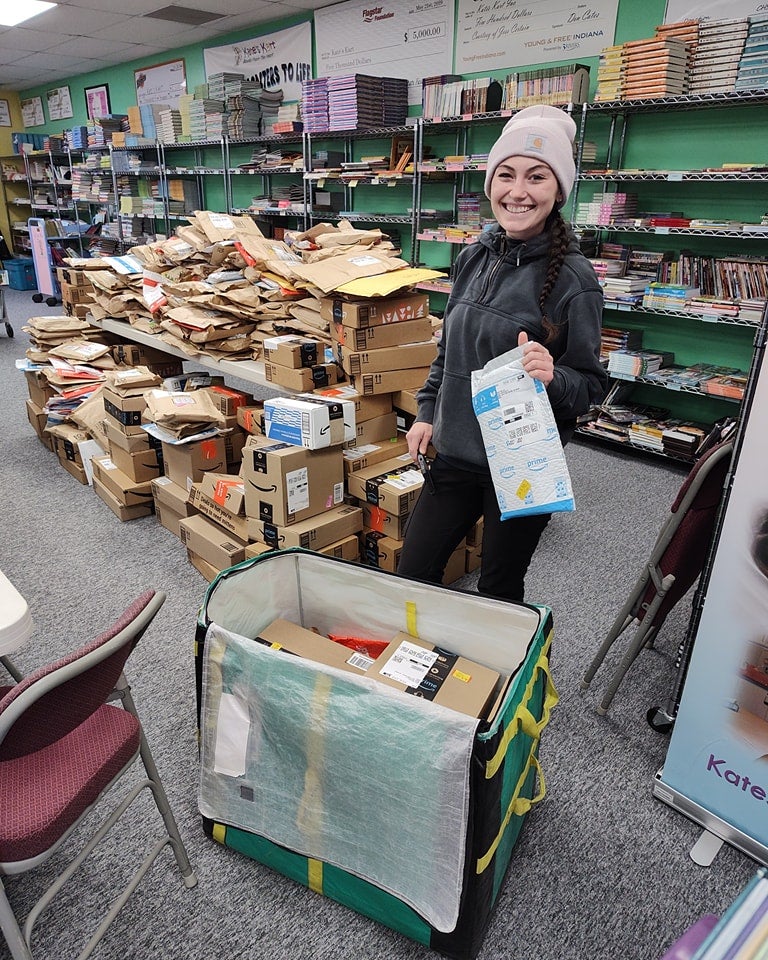 We've seen people comment, "We got a book last week and it really helped our stay," or "My kid still loves the book they got last year from their hospital visit." Sometimes these are people who, at one time, got a book, saw a need, and donated. Collectively, the community gave us 500 packages to unload. It truly is a Christmas miracle!
There's something about the power of that book in a scary hospital situation, giving mom or dad the opportunity to get off their phone and crawl into bed with their child and read to them. It gets the kid's mind off whatever's going on. It's a powerful thing that these books are doing for hurting and scared families.
Help Kate's Kart by buying a book to put on the Kart: https://kateskart.org/our-wish-list/. You never know how you might light up the day of a hospitalized child.
To learn more about Operation Round Up, visit our webpage and make sure you're opted-in to contribute to the fund!