Operation Round Up: Joe's Kids Provides Critical Therapeutic Support for Kosciusko County Kids
There's nothing quite like the specialized care Joe's Kids is providing for the children of Kosciusko County. Executive Director Rebecca Bazzoni shares how the nonprofit is joining the greater team of nonprofits in the community to help as many families as they can with professional therapy and tutoring. With the Operation Round Up grant contributing to their support system, Joe's Kids can go even farther in their reach.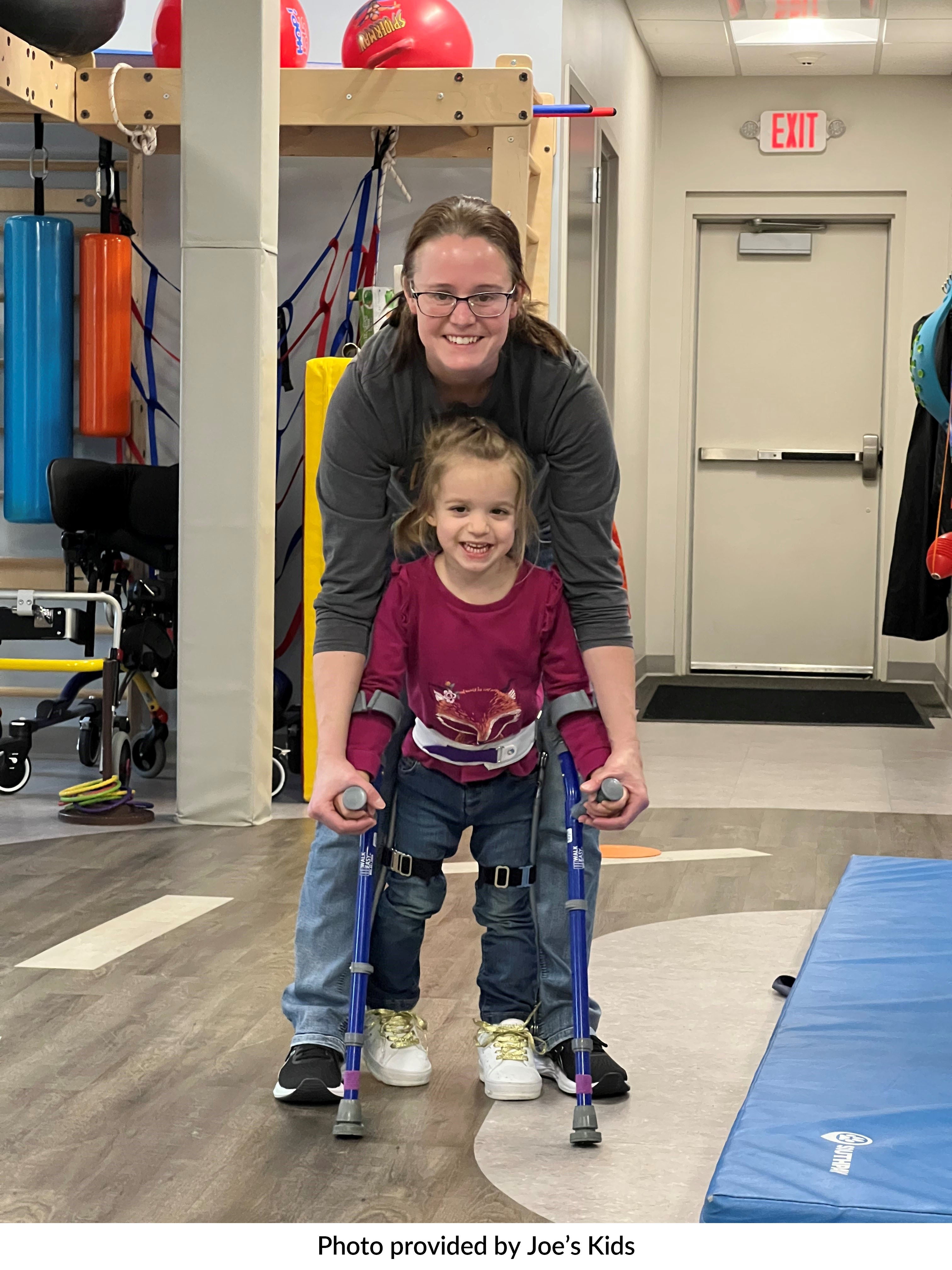 KREMC Interviewer: How has the Operation Round Up grant helped Joe's Kids serve our communities?
Rebecca Bazzoni: We've been receiving grants from Operation Round Up since about 2015. We were a startup facility in 2014, so we learned about you guys quickly through the Community Foundation. Over the years, KREMC's grant has helped us a lot. They mostly help with the costs of providing therapy to our kids. They've also covered testing kits, therapy equipment, and computers. But the most significant thing has been helping with the cost of therapy for the kids since that is our biggest need by far.
This facility is beautiful and wonderful, but we wouldn't be here without the help of the K21 Health Foundation. We are busting at the seams. We see about 500 kids a year in 4,300 square feet of space. We have to raise 35% of what we need to break even. That fundraising need breaks down to about $40 per child per therapy session. When Operation Round Up grants us money to help cover those therapy services, it's covering sessions for kids that we wouldn't be able to help otherwise.
KREMC Interviewer: What has Joe's Kids learned about the need for these therapy services in Kosciusko County?
RB: There's a huge need. It's a need that is seen all over Indiana. I can speak mostly to the northern part of the state, but when we first got Joe's Kids up and running, children in Kosciusko County didn't really have a place to go for therapies. They get therapies through Indiana First Steps, but that's just up to the age of three and there are qualifying standards. A child has to be two standard deviations below the norm in one area of development, which is the bottom 2.3%, or it can be 1.5 standard deviations in two areas, but that's still around the bottom 7%. There are a lot of kids who need help, and if it's not addressed early, it becomes a much bigger problem. We help fill that gap.
Children have always been able to get therapy services through the school system, and they provide a very vital service as well, but their focus is on the here and now and what it takes to succeed in school. They work on adaptations and accommodations for the classroom. They get to see the child for 20 minutes, usually not more than once a week, and it's often in a group setting. Parents aren't there to learn, so they can follow through at home. What they do is very critical for school, but at Joe's Kids, we're able to look at not just this school year but where can this child be at 18? Can they live alone and have a job? We set our goals six months at a time, but we look at the long-term and cover all areas of development.
We fill a gap that a lot of kids would fall through. Before we were here, our kids were traveling to South Bend or Fort Wayne, which is an hour each way for a lot. They were facing long waiting lists for care because there are not enough clinics like this in Northern Indiana.
KREMC Interviewer: How does Joe's Kids go above and beyond to meet these needs?
RB: With the help of KREMC and others in the community, we've been able to grow our staff to meet the need. Up until we started busting at the seams at our facility, we were minimizing our waitlist times. What we have seen in the past couple of years is a huge increase in the need. Our referrals have doubled in the past few years. We used to get about 400 referrals, and now we're getting about 750 in a year.
Our name is an acronym for Join Our Effort because we can't do it alone, and we wouldn't be here today without the support of our community and the support of REMC.
KREMC Interviewer: How has the community responded to the impactful work that Joe's Kids does?
RB: We have had great support, through grants, donations, and companies that get involved and sponsor our fundraising events. Our growth is a testament to that. When we moved into this facility at the end of 2016, we were only seeing a little over 200 children per year. We've been able to grow because our community gets behind us.
We have a great dinner tailgate auction that we do at the end of September or early October every year. It's well attended, and we raise about one-third of what we need in that one night. One of the things we started through the auction was giving people the opportunity to sponsor a child. It's a little different as a healthcare organization because we're not allowed to share letters and photos. Instead, we share stories and video testimonials on our website. Sponsoring a child is basically covering the cost their insurance isn't paying for the service. Through that, people give monthly donations. They commit to it for a year, but most stay on. Right now, that's bringing in between $75,000 and $80,000 a year for us. To me, that speaks loudly to people who really have a heart for the kids in the community.
KREMC Interviewer: How do you develop relationships with the kids and their families, and how does it impact your mission?
RB: We have a handful of kiddos with diagnoses that are one in a million. The doctors do amazing things, and they would never have gotten an answer without a geneticist, but it's different when they come here. They see the doctor every few months, but here they're coming in every single week, and we really develop a relationship with them. We get to walk with them through the hard times when they don't have answers, and sometimes, we don't, either. But we can at least point them to what changes are happening and encourage them.
We get a lot of hugs, and we get a lot of fits because sometimes therapy is hard work. What's really fun is when you have a child who comes in, and they're scared and don't know what's going on. You're asking them to do hard things, and they don't understand why so they're agitated. Over time, they start to engage with you and to come in and play. Therapy is hard work, but we're trying to make it look like play.
KREMC Interviewer: How do you partner with other community nonprofits to serve the kids in the best ways possible?
RB: We keep a holistic approach in mind. We're not the only people serving these kids. We're one member of a greater team, and that team includes our schools, our teachers, the aides, the parents, the school system therapist, the First Steps therapist, the physician, and others. We're all working together to help the child.
There can be some natural collaboration with other nonprofits because of sharing kids. We have kids who attend Baker Youth Club, kids participating in programming at the YMCA, and kids who love going out to Magical Meadows to get therapeutic horseback riding.
One thing we've done to develop our staff is twice a year, we shut down for one day to have a staff development day. We get out there and tour the other nonprofits and volunteer in the community. Last spring, we went to Cardinal Services and Magical Meadows. We've gone out to the YMCA and Lighthouse Autism Center. Other organizations have come out to talk to us, and we've volunteered our time with Ryan's Case for Smiles making pillowcases for children in the hospital.
It's hard in the nonprofit world because you're trying to keep your head above water and keep the wheels turning. It's easy to get a little segmented, but when we get our staff out to visit other places, it makes it a little more real. Our development days are also a time for the staff to give a lot of feedback on how things are going. They're the hands and feet doing the work, and we get some great ideas from them.
In 2018, one recognized a need from our families for a case manager who could come to Joe's Kids and get to know them and their needs or obstacles. Healthcare is very confusing. If you don't have a background in healthcare and suddenly your child has a rare diagnosis, you're going to spend much of your time looking for answers and trying to get help that may or may not exist in the area. Sometimes you need somebody there to help you. We added a case management position back in 2018 and renamed it to the child family advocate. She connects our families with other resources in the community. If they're not getting to therapy because they're struggling to even make the rent that month, there are resources to help. It's been a critical thing here.
It's important not to duplicate efforts. There are so many needs, so we need to have that niche and know who's doing a job well. Since COVID hit, we've seen more behavioral challenges, especially for our children who are on the spectrum or have sensory needs. They thrive on structure and predictability, and those went out the window for a year or two. Parents have been worn out, and that makes it hard. We need to know what other community services are doing and how we're able to help each other.
We're grateful to REMC and to our communities because what you give is coming back and changing the lives of kids. It adds up. When we as nonprofits look at what we need to do to raise the funds we need to accomplish our missions, it's never the one that you're looking for, it's the thousand. It's more powerful. When people come together to support their neighbors – that's the definition of community. It's not just living in proximity. It's caring. It's not the responsibility of one person with a great heart and a lot of money. It's everybody.
KREMC Interviewer: Kosciusko REMC is member-owned and motivated by its community. How does Joe's Kids resonate with our values and love for Kosciusko County?
RB: I would say the same of us. There are much easier jobs in the therapy world, but this is a community need. We're happy to serve families right here in our hometown. The really amazing thing is that we're not doing it alone. Yes, there are collaborative efforts or referring to the other nonprofits. But none of us would be here without the community. There's a reason we're nonprofit. It's a broken business model, and it doesn't work on its own. It's people who look around, find what they're passionate about in the community, and give to help others.
KREMC Interviewer: What's next for Joe's Kids?
RB: Our next step is going to be looking at a bigger space so we can keep growing to meet the community's needs. In the meantime, we're seeing that waitlist develop, and we don't want that for our children. No parent wants to hear that their child has a diagnosis they didn't see coming, they need help, and that help isn't available.
Our goal is to keep our services accessible, first and foremost, to the children of Kosciusko County, and then also to the surrounding area. There are 10 other counties that we have seen children from in the past year.
Right now, Warsaw Community Church is giving us space in their church nursery two days a week, so we send a couple of our speech therapists out there. That's a temporary solution. We're looking for a space that can accommodate growth and make sure we can continue to meet the needs of our community.
About three years ago, someone came to our auction who valued what we did. He came up to me and said, "But what are you going to do about dyslexia?" I said, "I don't know. We're healthcare!" Our speech and occupational therapist will see some children with dyslexia, but it's not an overwhelming majority. I think there are a lot that go undiagnosed, and there's a lot of research pointing to how great the need is. Studies have shown that up to 20% of the population can be affected.
At the time, I said we would keep it in mind, but we were already starting to feel tight. However, he knew our mission was to help each child reach their full potential, and he saw another need in the community. He persisted each year, and he's been supportive. Sure enough, someone else came who had experienced the need with her own kids, so before long, we started connecting all the dots.
In September of this past year, we opened Reading Connections for Joe's Kids, which is a dyslexia tutoring service. We have six tutors right now who are all finishing their certification in the Orton-Gillingham method, which is a proven method for kiddos. We're already seeing great things – children who were stagnant are jumping several reading levels in two months' time. They're exceeding the goals that their teachers at school had set for them for the year. Their reading shoots through the roof! We were excited to do that.
When we move, we want to have all our services in one place. But WCC donated space so our tutors can be out there Monday through Thursday after school. That's just another example of a community that gets behind you. Now, they've got tutors in the basement and speech therapists upstairs. They've been very gracious to us.
KREMC Interviewer: How can the community help you the most right now?
RB: There's always a financial need, but beyond that, awareness and knowing your neighbors or whoever might be struggling. If you have a child with a long-term disability, you're facing so many more struggles in life - simple things like mowing the lawn and running to the grocery store become much more of an ordeal. We want our community to recognize families who have those additional challenges and be a help to them, because when they're supported, they have what it takes to get behind their child. The daily grind of bringing a child to therapy and trying to get everything else done is a lot. Refer them to Joe's Kids! If a family needs help, we want to be there for them.
KREMC Interviewer: What's your favorite about working with the children at Joe's Kids?
RB: I love laughing, and I love the things they say sometimes. You never know what's going to come out of a child's mouth, and they'll surprise you with their viewpoint. Years back, I was leaving the clinic one day, and I was very busy, and in the daily grind mode. I was getting ready to walk out the door, and there was a child in the back who had been in a struggle for his life. It was a constant battle. I said "hi" to him, and he said, "Wait!" I turned around, and he said, "Can I give you a hug?"
Most kids ask, "Can I have a hug?" But he didn't say that; he said, "Can I give you a hug?" Whatever was bugging me that day was nothing compared to his challenges. I left and cried the whole way to my car because he completely changed my frame of mind in one little sentence. There's a lot of depth to a lot of the things kids say, and there's a lot of silliness, too! Children who face challenges teach you a lot about life.
Learn more about Joe's Kids, and make sure you're opted-in to the Operation Round Up fund.