Local Cooperative Kosciusko REMC Holds
Electric Vehicle Test Drive Event
The event provided three test drive vehicles and educational programs for attendees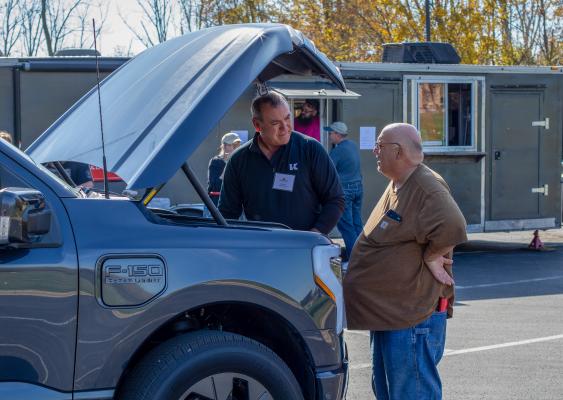 Warsaw, Ind. (Oct. 24, 2022)On October 22, Kosciusko REMC (KREMC) held an EV Test Drive Experience event, where attendees could test drive an electric vehicle (EV) at no cost. Thirty-eight drivers stepped into their vehicle of choice, drove a ten-minute circular route through the Warsaw area, and explored the features of EVs first-hand.
Three vehicles were available to drive at the event: a Ford Lightning Truck, a Tesla Model 3 from KREMC and a Tesla Model 3 brought by Laura Matney from Wabash Valley Power Alliance.
"We had a great turnout for our event," said Kurt Carver, CEO of KREMC, "Our members were excited and engaged with their driving experiences and getting their questions answered. They were very appreciative that KREMC employees took the time to put on the event."
The Crooked Barn Smoked BBQ food truck was on-site at the event, and free meals were provided to members who test-drove an EV. KREMC employees were available to discuss EVs with the members and to explain information in the educational handouts.
The goal of the event was to provide an opportunity for interested attendees to drive an EV without the pressure of a sale. KREMC plans to make this event annual because of the event's attendance.
"We chose to host this event because of the increased interest in electric vehicles and their impact on the power grid," said KREMC Manager of Marketing and Communications Tara Haack, "We plan to make the event annual. Next year we are considering adding the ability for drivers to reserve a time slot online to reduce wait times, and we are hoping to partner with more dealerships to offer a wider variety of EV makes and models."
KREMC is installing a feature on their website, kremc.com, to be a resource for members who want to learn more about EVs and how they fit into the electrical system in Kosciusko County. They are also publishing additional information on their website's blog and social media, @KosciuskoREMC.
Kosciusko REMC is a Touchstone Energy® electric cooperative serving over 18,000 accounts throughout Kosciusko County and into surrounding counties.
###
Photo: A Kosciusko REMC member gets ready to test-drive a Tesla Model 3 at the KREMC facility; KREMC CEO Kurt Carver examines the front of the Ford Lightning EV with a test driver.
If you would like more information about Kosciusko REMC, visit kremc.com.