Kosciusko REMC Continues Annual Donation to Winter Warmth Program
KREMC helps Combined Community Services provide winter care to community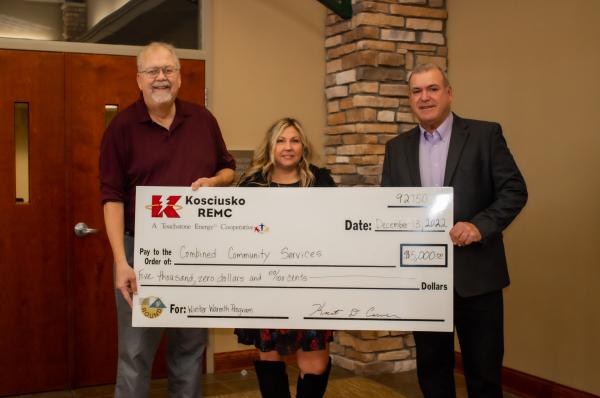 Warsaw, Ind. (Dec. 14, 2022)Kosciusko REMC (KREMC) donated $5,000 to Combined Community Services (CCS) to support the Winter Warmth Program. On December 13, KREMC's CEO Kurt Carver presented this check to CCS Executive Director Randy Polston. KREMC has been supporting the Winter Warmth Program since 2007.
"Giving to our community is an essential part of our cooperative mission," said Carver, "We support CCS as they provide warmth and needed services to our community this winter."
CCS will use KREMC's donation to support KREMC members who need assistance with their electric bills. This provides relief to families and individuals so that their homes can stay warm without the financial burden.
According to Polston, the needs of the community this winter have already been significantly greater than in the past.
"At Combined Community Services, the inflationary period of time that we're going through in our nation is really affecting our families," explained Polston, "Normally, we would have 350 or 400 families a month come into the food pantry. By the second week of November, we had already exceeded 400 families. By November 30, we were over 700 families that needed food."
Because of this rising need for donations, CCS is even more grateful for sponsors like KREMC, who share the like-minded mission of putting members of their rural neighborhoods first.
"It takes a village," said Polston, "and REMC is definitely part of that village to help support us to continue being able to impact lives. We've needed a lot of assistance in the last few months just to keep food on our shelves for those in the community that need it. We can't thank REMC enough for their support and for being a part of this village."
Kosciusko REMC is a Touchstone Energy® electric cooperative serving over 18,000 accounts throughout Kosciusko County and into surrounding counties.
###
If you would like more information about Kosciusko REMC or its community involvement, visit kremc.com.