After 97 Years, BYC is Still Changing Lives in the Community: A Q&A with Tracy Furnivall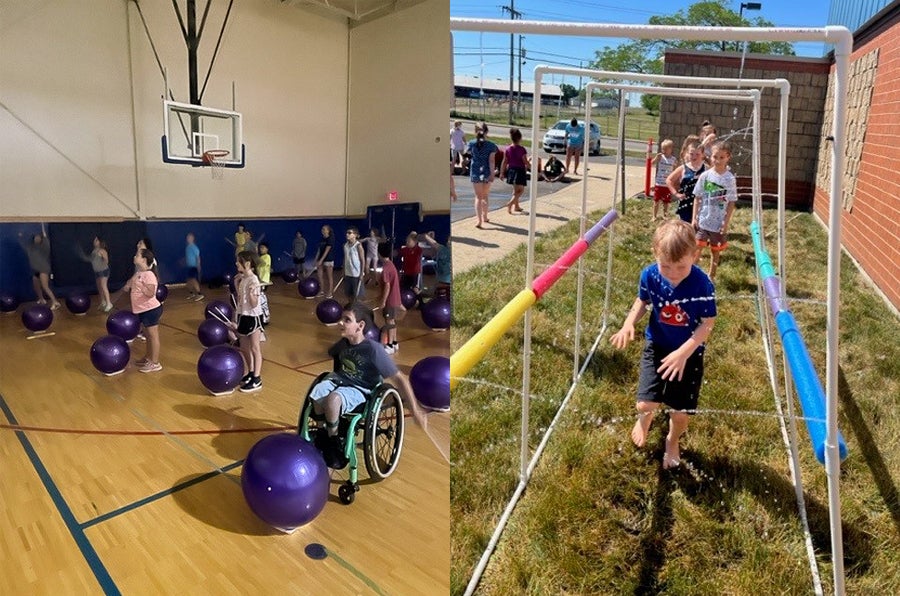 Baker Youth Club is another enthusiastic grantee of KREMC's Operation Round Up. We spoke with the nonprofit that provides an active after-school program and summer camp to increase social skills and education in Kosciusko County's youth. Executive Director Tracy Furnivall explains the vision and impact of BYC in this Q&A.

KREMC Interviewer: Your Operation Round Up grant went to your before and after school programs and summer camp. Can you tell me more about these programs and how the grant supported them?
Tracy Furnivall: Operation Round Up has supported Baker Youth Club for many years. We're very blessed and excited to have the support.
One thing we try to do well here is listen to the needs of our community. Three or four years ago, there was a strong need for all-day summer programming. So, we switched to the all-day summer camp, and it has been growing ever since. Typically, we would see around 50-60 kids in our afternoon-only camp. When we switched to all-day, last year was one of our biggest years, and we got about 120-130 kids daily. It's about half and half – so 50-60 kids that come all day and 50-60 kids that come for only the afternoon. It was obvious there was a need because of the sheer number of kids that were coming. We're very excited about the growth of that program and what we can offer to our community.
KREMC Interviewer: What does a typical day at the BYC summer camp look like?
TF: The summer camp's main focus is health and fitness. We also do STEM projects and reading programs. It's a day filled with structured activities, but we also have free time. We want kids to be able to be kids and have fun. In the morning, everyone shows up at a different time so it's free time, and then we do a structured activity like kickball or dodgeball. If it's nice, we go outside and do sidewalk chalk, or we'll go across to the fairgrounds and do activities over there. It's all about providing structured activities to keep them busy and to be active. We don't want them just sitting around, so no electronics are allowed.
We also provide lunch every day. During the school year, some kids rely on the breakfast and lunch that the school serves and then the dinner that we serve. In the summertime, if they're not coming here, we don't know if they're getting meals. The lunch we provide is healthy and nutritious for the kids, and we provide an afternoon snack and juice.
In the afternoon, the rest of the kiddos come in, and we repeat the morning but with different structured activities, STEM projects, and reading programs. It's a full day of free time, structured activities, lunch, snacks, and a lot going on. It's a crazy, busy day, but my goal is to provide structure and routine to keep them focused.
KREMC Interviewer: How does BYC influence the community and resonate with KREMC's community-focused values?
TF: We are centered on kids. We are all about kids – that's what our program is. But it's also about the families. We're allowing parents to be able to go to work, to afford the house, to put food on the table, and to be involved in the community. Without BYC and other programs, those parents wouldn't have the ability to do that. Our membership is 360-370 kids registered, but that equals nearly 200 families that we're affecting as well.
I see that KREMC is community-driven almost daily. The co-op is heavily involved in our community, and I think that's visible to a lot of people. The involvement is incredible because companies don't have to do that. I see REMC as a huge pillar in our community, not only for us but for many different organizations, individuals, and families, as you provide opportunities. That visual that we see of your involvement in our community is very impactful. Thank you to Operation Round Up, and thank you to this community!
KREMC Interviewer: Baker Youth Club has a trusted reputation in the community of Kosciusko County. How do you go about forging that trust with parents and community partners to be able to help families on such a large scale?
TF: The credit goes to God. We're blessed, and all the glory goes to him. Our organization is 97 years old, and the first few directors who built Baker Boys Club and Baker Youth Club laid the foundation of what our club is based on – to shape healthy, educated, and socialized kids, based on Christian values. We're teaching kids right from wrong, we're teaching them to get along with each other and to be healthy and active. Our number one goal is the safety of our kids. These families are entrusting us with their children, and we do everything we can to keep them safe.
Trust comes from the longevity of our organization. We've worked very hard. Other than the Red Cross, we are the oldest not-for-profit in the county. When you can be in a community for that long and survive wars, depressions, stock market crashes, COVID, and everything we've survived – that speaks volumes about the foundation that was built by our first few directors. We've worked hard to build upon that and keep kids safe.
We charge a minimal fee, but we don't turn anyone away. We've heard many families say that they'd like to come, but they can't afford it, and we say, "That's okay! Come. We'll figure out the money later, but don't not let your child come because of a financial situation. Sign them up, get them here, and get them active. Hearing gratitude from parents means a lot to us.
I'm a product of the club. I grew up in the club. My kids attended, and now I have three grandchildren that attend. We have many second and third generations of kiddos running around here. That speaks to our foundation, the longevity of our program, and our community. They trust us because they know what we're doing is impacting lives, so they continue to support us.
KREMC Interviewer: What is the most beneficial developmental aspect of the BYC programs?
TF: We focus so hard on education and health, as we should. Those are two very important pillars in a kid's life. But the third pillar in our mission is social skills development. What we've learned through the past two or three years is social and mental development for kids. We probably do more good socially than educationally and with health because in every activity we do, kids are learning to be socially engaged. Whether it's sitting down with a staff member and playing UNO or checkers, or reading with other kids in the reading room, or playing a volleyball or dodgeball game in the gym, you're engaging. You're being socially interactive with the other kids and the staff members, and you're learning how to get along. The social aspect of it is the biggest impact we're having on kids.
With COVID, it took about a year and a half to see the effects, but when kids sat around for nearly 6 months, it really affected them. Unfortunately, it's the world we're in now, so I think we need to focus and stay focused to move that social aspect to the first thing we focus on. It's something our community needs to be aware of.
KREMC Interviewer: What is your greatest need at BYC currently, and how can the community help?
TF: We need funds – there's no other way to look at it. What we want to offer to the kids in our community takes money. We can't operate programs of our stature with volunteers. We want to pay our people. There are staffing costs, utility costs, meal costs, and a lot more that goes into it.
The partnership with REMC has been fabulous. We're very thankful to have REMC in our community doing what they do, not just for us, but for other organizations, too.
There are other ways to get involved. One organization brought us boxes full of supplies. We use supplies every day throughout the year, so that's like a financial donation because we don't have to buy those supplies. We have a few organizations that provide a meal a month since our meal costs have gone up. We're serving close to 10,000 meals in a school year, so providing a meal once a month is an opportunity. Or just come in and hang out. Spend a half hour or an hour with a young kid, playing games, reading a book, or shooting some baskets. When somebody new comes in, they can be a positive role model for them. That's very important for these kids. There are many different opportunities through providing items, volunteering meals, or hanging out with kids, to get involved with Baker Youth Club.
KREMC Interviewer: What will the summer camp look like in 2023?
TF: We're all in with this program, especially after seeing the numbers. We started the program in the COVID year. We worked our tails off, and we shut down for about two months, then opened up June 1 after going through all the protocols for COVID.
Fast forward two summers later, and we are seeing the impact we thought we would have, and we're seeing that continue to grow. There's a desperate need in our community for all-day summer programming. There is no looking back for us. That's something we pride ourselves on – when we start something, we're going to get through it and do what we need to do to make the program successful for the kids. We look forward to offering the all-day summer camp again. Registration will open in February or March, and we'll start getting kiddos signed up.
Learn more about BYC's summer program or find out how to donate to BYC.