KREMC Gears Up for Annual Meeting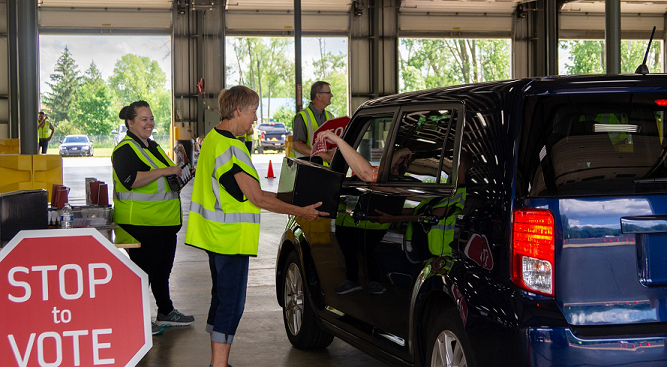 The Kosciusko County REMC Annual Meeting is just around the corner. This important gathering is when members of the cooperative cast their votes for the board of directors. We know there are members who are new to the area or simply don't know what the event is all about. We want to make sure you are fully informed and have all the information you need before this year's meeting. So, here's everything you need to know!
The annual meeting is a two-part event. The first part is a virtual broadcast that will premiere on the KREMC YouTube channel on Tuesday, June 6 at 7pm. During the live broadcast, members can interact with KREMC employees and ask questions via chat. This year, members who watch the live premiere will have the opportunity to win one of five $50 bill credits or a special KREMC prize basket. Be sure to subscribe to KREMC on YouTube and tune in for your chance to win!
The second part of the annual meeting is the drive-thru portion that will take place on June 8 from 3 to 6 pm at the KREMC facility at 370 South 250 East in Warsaw. Members can drive through the property in their vehicle and conveniently cast their vote without getting out of their car. In previous years, the cooperative held a more traditional meeting. The drive-thru format has enabled more members to attend and cast their important votes for the next KREMC Board of Directors. Last year we set an attendance record with 1,342 members casting their votes in the board election. We hope to break that record again this year.
We like to think that members are motivated to use their voice and their vote during the cooperative's annual meeting. However, we also know they are equally motivated by fun, food, and gifts! As members drive through, they'll submit a ballot to vote for the board of directors. Your ballot can be found on the inside back cover of the June issue of Indiana Connection. Simply fill out the ballot and bring it with you to the drive-thru meeting. If you don't receive your Indiana Connection in time, or if you forget to bring it with you, don't worry. Staff will register you to vote right there on-site from your vehicle.
Members will also be given a delicious meal as they drive through. This year KREMC has partnered with American Table to cater the Annual Meeting. Each member and the passengers in their vehicle will receive a boxed meal to-go that includes a turkey, ham, and cheese wrap, cold pasta salad, and a cookie. A bottle of water with a special KREMC koozie will also be provided to accompany the meal.
And to show extra appreciation for attending, every member will be given a Magnum COB Worklight AND receive $10 off their next electric bill! Last year's attendees were delighted with their experience at the drive-thru meeting. One member wrote us to say "First-time attendee. Efficient. Good meal. Thank you for the bill credit, light bulbs, fast, friendly service. Thank you to all who service us year-round. Thanks for displaying our flag so prominently!"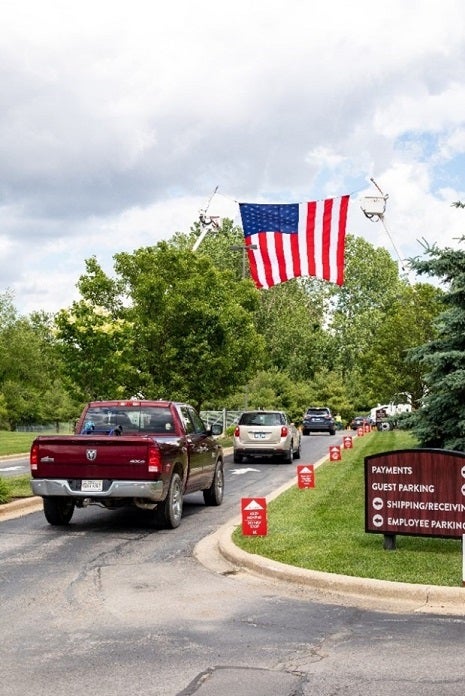 A lot goes into planning this unique event. The KREMC employees and several amazing volunteers organize and staff the annual drive-thru meeting. They help direct traffic, hand out the food and gifts, and work hard to ensure the success of the afternoon. Administrative/Payroll/HR Specialist Rachel Miller is looking forward to this year's meeting. "Having employees come together, meet a lot of our amazing members, and understand how we as a community work together to help each other and those around us is a lot of fun! As Helen Keller said, 'Alone we can do so little; together we can do so much.'"
It truly takes everyone working together to execute the drive-thru meeting. It's a huge effort but one that is well worth the sweat. Everyone at KREMC has a wonderful time seeing the cooperative's valuable members and can't wait to create new memories this year. Key Account/GIS/Engineering Tech Dalton Caley agrees. "It's great to be able to interact with all the members and remind them we are here to serve them!"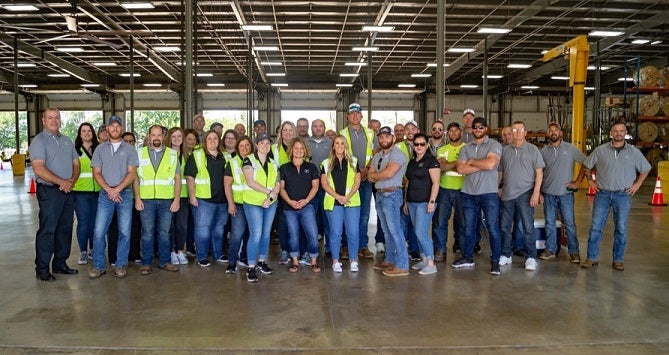 If you have any questions about the KREMC Annual Meeting, do not hesitate to give us a call at (574) 267-6331 or shoot us your question at kremc.com/contact-us. Mark your calendar for June 6 for the YouTube virtual broadcast and June 8 for the Annual Drive-Thru Meeting! It's a fun and convenient way to cast your vote and show your support for your rural electric cooperative.