Meet Some of our
4-H Scholarship Winners
Every year Kosciusko REMC gives away ten $350 scholarships to members who participate in 4-H.
This article is part of a series highlighting some of the 2023 4-H Scholarship recipients.
Graysen Shepherd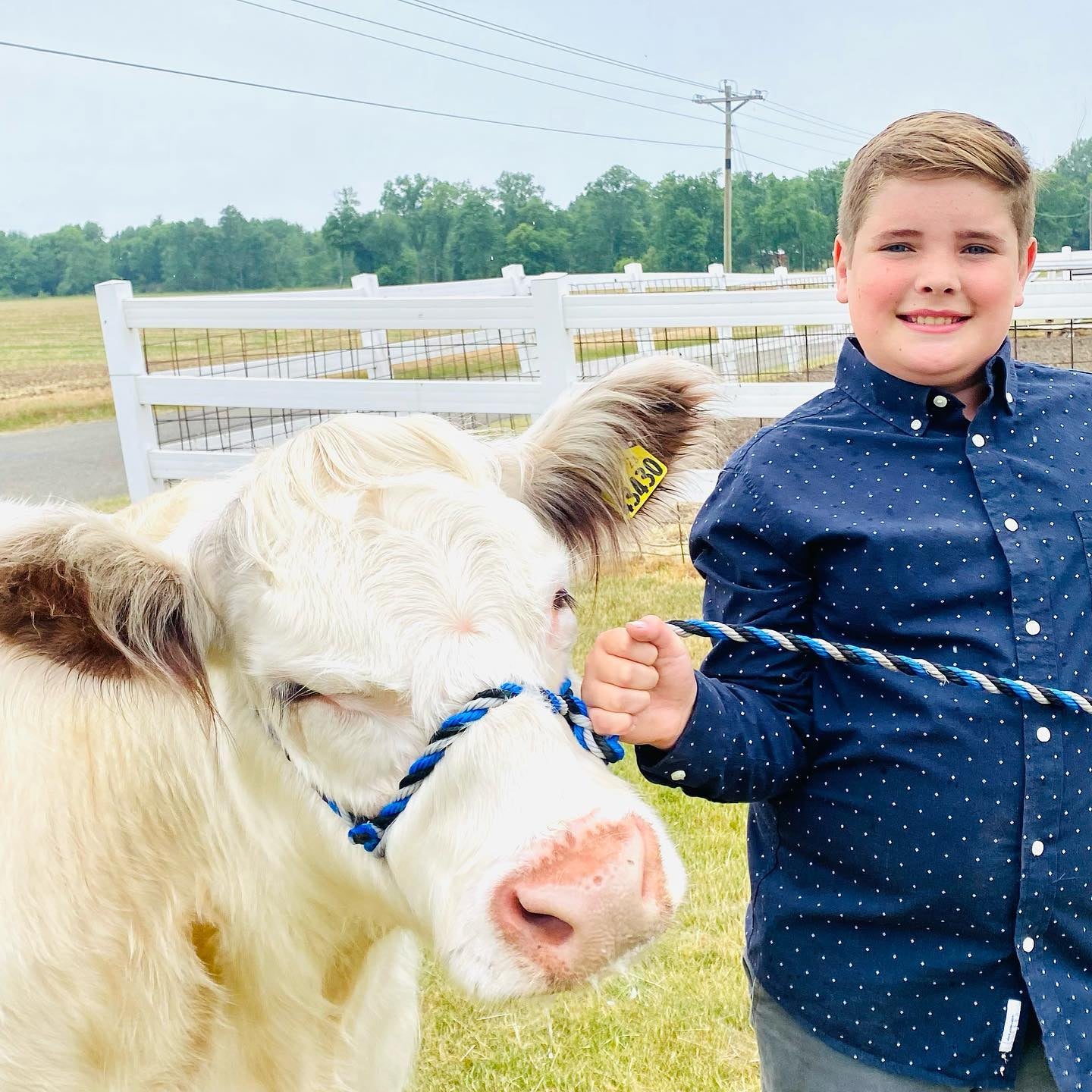 School: Madison Elementary School
Grade: 6th grade
4-H History: 3 years in 4-H
Graysen and his older brother Riley are well-rounded 4-H participants. Graysen is newer to 4-H than Riley, but he shared that he has already taken on a variety of projects. His first year in 4-H he did baking and Legos. He added woodworking the second year and did more Legos and baking. However, this year he scaled back to woodworking and baking. The Legos were a bit more time consuming and complicated. Apart from those projects, Graysen works with animals for 4-H too. He had a cow and two pigs this year.
When asked what has been most memorable about his years in 4-H so far, Graysen said it was definitely the beef. According to Graysen there is a lot of activity in the beef barn, a lot of friends, and a lot of fun things to do. It's not easy taking care of and training animals for 4-H. Graysen remembered one obstacle was trying to get the pigs to hold their heads up when he was showing them. It's a whole training process, Graysen said. 
He feels lucky to have the support of those around him. Graysen said his neighbors are really helpful and give him great advice too. While he has plenty of time to decide, Graysen is considering getting his degree one day and becoming a paramedic. His Dad is a volunteer paramedic. When not busy with 4-H animals and projects, Graysen likes to golf, swim, and play with his English Mastiff, Chuck Norris.
Riley Shepherd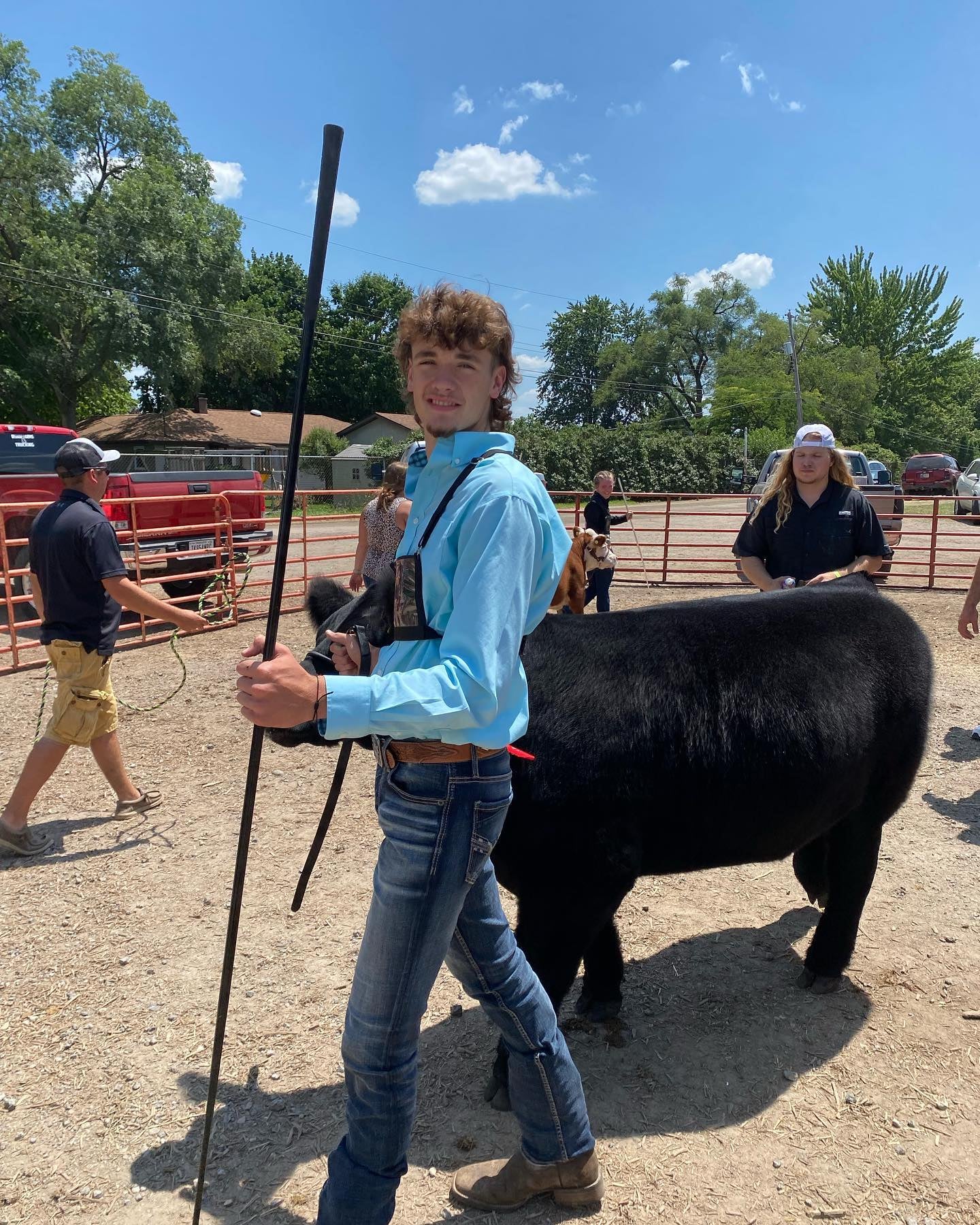 School: Tippecanoe Valley High School
Grade: Senior
4-H History: 9 years in 4-H
Riley Shepherd has a long history in 4-H and enjoys participating in a variety of projects. This year he did fire & safety education, baking, beef cattle and pigs. Riley and his younger brother Graysen both enjoy cooking and baking projects, likely because their mom's a pretty great cook. Riley said his family doesn't really farm but a lot of their other family does. Riley's animals are just for 4-H. 
He agrees with his younger brother about the memories created in the beef barn. Riley recalled the calves being wild and unwilling to cooperate when you first get them. But, he said, once you get to fair it's all worth it. Riley enjoys getting to hang out with his friends and the battle of the barns Olympics-style competition that happens. He agrees that 4-H is not without challenges and mentioned that it can be really discouraging if your animals get ill. That's an obstacle he has had to overcome before. It's a year-round commitment to raise and work with the animals and you don't really get a break. You're out there morning and night every day, Riley said.
Like Graysen, Riley emphasized the wonderful support he receives from parents, grandparents and other friends and family. The family they bought their calves from down the road come to check out the boys' calves and help get them ready for show. And the pig guy from Ohio will drive down to demonstrate what to do with the pigs and how to properly show them, said Riley. He expressed gratitude for the 4-H scholarship and said it will help with feed bills and keeping their animals in good condition, as well as contributing to the general supplies they will need to restock for next year. 
Riley keeps busy outside of 4-H. He plays varsity basketball for Tippy Valley and plays AAU Basketball. He has even received one offer to play college basketball at Manchester University. Riley said he is hoping to get more offers because he would like to move on with his basketball career in college.
Head, Heart, Hands and Health
Head, Heart, Hands and Health. These are the four values that lay the foundation of a program that reaches almost six million young people and strives to help them grow into lifelong leaders. Getting to know this year's KREMC 4-H scholarship winners was a pleasure. Each recipient we spoke with (including Graysen, Riley, and the others we have recently featured) is engaged and proud of their community. They have unique skill sets and interests. They work hard to succeed in 4-H, and they all expressed immense gratitude for the support and help they receive from their families, friends, and mentors. Kosciusko County and surrounding areas are lucky to have these bright young minds who will surely go on to make our community and the world a better place. They've already started.
4‑H Pledge
I pledge my head to clearer thinking,
My heart to greater loyalty,
My hands to larger service,
and my health to better living,
for my club, my community, my country, and my world.
To learn more about Kosciusko County 4-H visit https://extension.purdue.edu/county/kosciusko/4-h.html
To learn more about 4-H nationally visit http://www.4-h.org
To learn more about the KREMC 4-H Scholarship visit https://kremc.com/youth-programs