Meet Some of our 4-H Scholarship Winners
Every year Kosciusko REMC gives away ten $350 scholarships to members who participate in 4-H.
This article is part of a series highlighting some of the 2023 4-H Scholarship recipients.
Ella Jarrett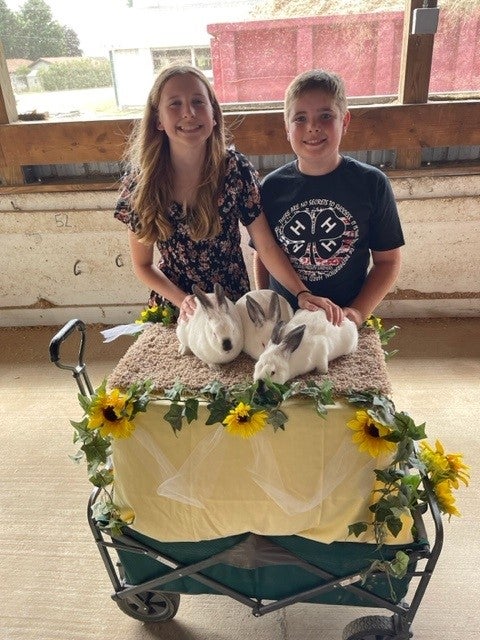 Ella Jarrett stands with another 4-H participant
Ella Jarrett is a sophomore at Warsaw Community High School. An active student, Jarrett said she used to do cheer and now she plays tennis. Spanish and History are her favorite subjects to study.
Jarrett has been participating in 4-H for seven years. She works with rabbits, and completed microwave cooking, foods, cake decorating, rabbit poster, and horseless horsemen projects this year.
When asked about her most memorable 4-H moments, Jarrett said food-related projects tend to create a lot of memories. Last year, Jarrett made easter rolls with her Aunt Carla. Jarrett said she tends to cook with her aunt frequently and gets a lot of recipes from her. Jarrett also mentioned she loves to visit her friend Patty who helps her with cake decorating.
Jarrett acknowledged that 4-H projects can be a lot of hard work. Her biggest challenge has been bottle-babies. Jarrett had to wake up every 3 hours to bottle-feed her baby goats (or kids). Jarrett said her mom was a big help with nighttime feedings during the school week, as the weaning process for a kid takes 8 - 10 weeks.  
Outside of 4-H, Jarrett enjoys FFA, Junior Leaders, baking, and creating arts and crafts. She's particularly fond of watercolor painting. Jarrett's family appreciates that 4-H brings them together with friends to work hard and learn responsibility.
Gentry Bouse
Gentry Bouse is twelve years old and attends Tippecanoe Valley Middle School. 4-H is a big part of her and her family's life. This year, Bouse showed beef cattle and swine. She also took on projects in photography, sewing, and fashion review.
According to Bouse, 4-H has helped immensely with life skills and friendships. She has learned how to work hard and be a good person. It's that work ethic that likely earned Bouse a champion ribbon with her swine at last year's state fair.
Bouse explained the care she puts into taking care of the animals. There are six swine who need walked for fifteen minutes each morning and night. Bouse makes sure they're not too hot, cleans their pens, and washes and moisturizes their skin. When it comes to 4-H, Bouse says she gets a lot of help from family, the breeders, and the community on a whole.
Outside of 4-H, Bouse enjoys hanging out with her family, playing basketball, and she recently started playing golf and tennis. Bouse said she looks forward to carrying on her family's 4-H legacy for many years to come.