POSTPONED!
8:00 AM – 11:30 AM
Christ's Covenant Church  |  2090 E. Pierceton Road, Winona Lake, IN
Due to concerns regarding the Coronavirus (COVID-19) Pandemic, and following the recommendation of the CDC, our board of directors has decided to suspend our annual meeting.  As you know, earlier this week, the U.S. Centers for Disease Control & Prevention (CDC) urged limits on gatherings over more than 250 people.  Our annual meeting attracts more than 1,000 people.  We will continue to monitor the situation to determine if the meeting can be rescheduled and held on a later date.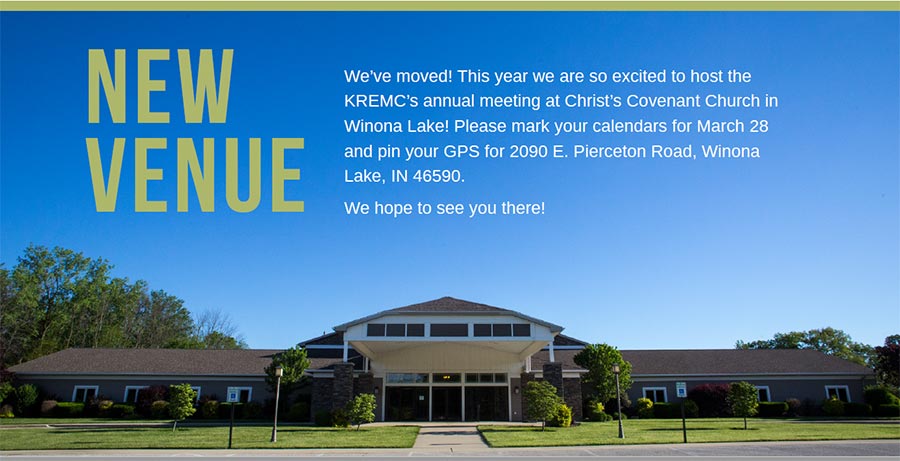 Free Breakfast
Free breakfast sandwiches, pastries, and coffee!

Elect Your Directors
Choose your directors and help determine the future of our cooperative!  See below for details.

Prize Giveaways
Along with a $10 bill credit just for coming, you will be qualified to win fantastic prizes including gift cards, large bill credits, and/or other items!
How do I participate in the Board of Directors Election?
As a member, you get to vote for your board of directors! View or print the 2020 Voting Guide for the KREMC Board of Directors here.  After reviewing this, you can meet and talk with the candidates in person at the annual meeting.  Then cast your votes at the meeting; it's that easy!